Nodder News
Nodder News April 2012
Hi Everyone,
Another auction is over and again it went very well! As always, thanks to all of you for your bids.
I'll have to tell you, I have the best customers in the world.. Two weeks after the last 2 auctions were over I had been paid by all the winners, all of the dolls had been shipped and all consignment checks were sent out. That is amazing to me and it's all due to you guys. I've said it before and will continue to say it, our Bobbing Head community has the best and nicest collectors out there. Many, many thanks to you all!
If you've been following results in the hobby recently you can probably get a sense of the hobby overall. The tough to find dolls, and those in top condition are doing very well. The real rare one's in particular are setting record prices. On the flip side, the more common dolls, particularly baseball have been struggling. Prices for those dolls are down quite a bit. As an example, White Base baseball dolls that used to regularly fetch $300-350 have now settled into the $200-225 range. That's probably not good news for collectors who have full sets of baseball on their shelves but it does present a nice buying opportunity for collectors who are looking to put a new set together.. If I was a collector I'd be filling my sets in now.
As I mentioned, rare dolls are setting records all over the place. I though it would be fun to show some documented prices that have been realized over the last couple of years or so. Many of these were in my All Doll Auctions, others were sold in other auctions:
Green Bay Packers Promo - $20,295
Minnesota Vikings Promo - $20,000
Batman and Robin Set - $19,299
Chicago Bears Promo - $17,817
Washington Redskins Promo - $17,243
Philadelphia Eagles Promo - $11905
SF 49'ers Promo - $10,098
Batman - $8989
Popeye - $8442
Batman - $7835
Frankenstein - $7500
Montreal Canadiens Blinker - $6340
NY Rangers Blinker $4875
Denver Broncos Type 4 - $4514
NY Rangers Mini $4138
That's quite a list!!!
I'm pleased and flattered to announce that there is a chapter about me in Jeff Figlers new book, Collecting for Beginners. Entitled "King of Bobbleheads" it's a nice 10 page chapter all about me and the Bobbing Head hobby. It's quite an entertaining book and very well written. The only drawback is that now that I'm famous I can't go to the grocery store without being mobbed for autographs! lol
Jeff is one of the leading experts on collectibles in the world and established the Figler Foundation and Museum and has written many books and articles on collecting. I've been lucky to be a guest on his radio show several times. You can check Jeff out here:
I'll have more for you soon!
Nodder News Spring 2011
Hi All,
Time to get this column up and running again, it's been way too long.. sorry about that. lots of things to talk about, lets get started.
State of the Hobby:
Overall the hobby seems to be in very good shape. I still have new customers signing up every month which is always a good sign that the hobby is still growing. Although prices aren't what they were a few years ago there is still a lot of interest being shown and the dolls are still moving well. It seems to me that the overall lower prices are probably the result of a few things:
1. The economy, while getting stronger, is still sluggish. 2009 was a very slow year for me but things bounced back nicely in 2010 and have been solid so far this year. It seems many collectors are being a bit more careful about the amounts they spend. The overall number of bidders in my auctions has actually increased in the last year while the number of bids has decreased. Collectors have been more careful about how much they are spending. I notice many of my collectors now zero in on a doll or two whereas in the past they might have gone after 4 or 5.
2. "Speculators" have pretty much flown the coop. Several years ago when prices were going crazy a lot of people jumped on the bandwagon trying to make a quick buck. The result was that collectors had to compete with these speculators which drove prices even higher. Once things leveled out these guys left for greener pastures which has helped prices come down to more realistic levels. I remember a major auction 7 or 8 years ago where a huge collection went up for sale. I ended up winning about $30,000 worth of dolls that I gradually sold over the course of a year or so. I tried for many more, but some of the prices they realized were silly. I know for a fact that many of the winners were speculators that figured they could make a quick buck.. I guarantee you that not many of them made money.
3. The hobby is maturing.. I've been doing this for 10 years now and have seen a bit of everything.. Things really exploded about that time with the "bobble head craze". Many, many people got started on the stadium giveaways and gradually migrated to the vintage dolls. When new collectors "caught the bug" they tended to go nuts buying (it's a bit like a drug, lol) and many weren't that knowledgeable about prices.. While the hobby is still growing steadily the influx of newbies has slowed somewhat and those that have joined up over the years have learned more about the hobby and are much more prudent.
The bad news is your existing collections might be worth less than they were a few years ago, the good news is you can probably add to your collection more cheaply now than you could before. Overall not bad.
Trends
Some general pricing trends over the past 12 months:
Baseball - Generally down. Quality dolls still do very well, but lesser condition dolls are much cheaper than they were.
Non Sports - The rarer dolls are still doing very well. Oddball dolls are as cheap as they've ever been.
College Football - they've come down the last 2 1/2 years after reaching record prices. This set has always gone up and down more than others. If you like them now is the time to start adding to your collection.
Pro Football - Has performed very well. Quality dolls and the rare ones have done very well and have probably increased in value over the last few years. More common dolls in OK condition are struggling.
Hockey - Always up and down, overall more than holding their own.
Nodder Price Guide
It's doing quite well. I get 4 or 5 new signups every month. I did a major update to the guide and added hockey within the past year. I also occasionally add new dolls and update pricing, I'll be making quite a few changes between now and the summer. Price is now $15 for a lifetime membership. As you all know, prices can fluctuate wildly so it should be used as a "guide" only but I feel its a great research tool for any serious collector.
Ebay
I've always had conflicting thoughts about Ebay when it came to Bobbing Heads. On the one hand its made many more dolls available to collectors which is a good thing. if you find a reliable seller and have had good results it can be fine. the bad news is in most instances you don't know who you are buying from and the results can be bad. I follow ebay all the time to keep up with things. I'm always amazed at the number of dolls sold 'as is' with no money back guarantees and most have sketchy descriptions and unrevealing photos. When I sell a doll I want my customers to be confident when they bid and happy when they get the doll. I think I can count on 2 hands the number of returns I've had in my 10 years as a dealer. It's not that hard if you really try..
Just a reminder, if you have some dolls to sell give me a shot rather than sticking them on EBay. EBay now charges 9% of the final value fee and you have to do all the work. I charge 10% but I do all the work, including cleaning them up, taking good pictures and writing honest descriptions. I treat every doll I get in as I do my own and will do everything I can to try to get you the most for your dolls. My customer list is a "who's who" of nodder collectors so the prices I can get you are usually very solid. I have many regular consignors and they tend to do very well! Give me a try next time you want to sell some dolls.
Sales
As you can see I posted a sale on the site. I'd love to do this more often as I know many collectors would rather buy outright rather than bid in an auction. The truth of the matter is the last couple sales I had were flops! Nice dolls sat their for weeks and it was a big waste of time. I try to price the dolls reasonably based on their condition and what I feel they would normally go for. Some might seem high, some low but overall I think they're pretty fair (not like the "buy it now" prices you see on Ebay). Check it out, if things go well I'll have more of them.
Thanks and good luck with your collections,
John Brey
I'll have more soon, including a couple of new collections to post. Stay tuned.
February 2010
Hi everyone. I had hoped to be in Miami watching the Jets today, unfortunately they fell a bit short. We'll get them next year!
The Hobby Outlook
Things are looking pretty good in the Bobbing Head Hobby. We just finished off our 2nd strong auction in a row after a bit of a slow 2009. Starting with the December 2008 auction and continuing through September 2009 bidding and prices were a bit off for us. The economy slowed things down quite a bit but it looks like everything is bouncing back nicely.
Despite the relatively slow 2009 I was actually very encouraged about the hobby. The number of new sign ups to the site was the most that I've ever had in any one year and it appears new collectors are coming aboard every day. In the last auction alone I had 11 first time bidders which was also a record for me. When the economy bounces all the way back I think the hobby will be stronger than ever.
Overall prices have stabilized. I find that the prices for rare dolls (particularly football), high condition items and gem looking restored dolls are at least as high as they've been in the last few years. Conversely the prices for dolls in lesser conditions (those with obvious flaws) have really taken a hit. All but the rarest non sports dolls continue to sell at prices well below what they used to. Also College Dolls, which were hot as can be during 2007-2008 have really come back to earth.
Collections Page
As you can see, I added a new collection to this popular page last week. I'll have another on this week. From the emails and calls that I get, collectors just love looking at other people's displays.
If you want to give something back to the hobby send me some pictures of your own collection. It doesn't have to be a huge collection of rare mint dolls, many smaller collections are beautiful to look at. Grab your cameras and take a few shots of them as soon as you're done reading this. Email them to me and I'll do the rest. It's your pride and joy, SHOW IT OFF!!!
Price Guide
I've been threatening to post a major update to my Price Guide for as long as I can remember. After countless stops and starts, not to mention major software problems I finally have it about ready to post. I should have it up this week, completely revamped with up to date pricing and dozens of new dolls and pictures added.
I'll also be lowering the cost and extending subscriptions across the board to compensate you for your patience. Stay tuned!
Current Plans
My next auction should be up by March 2nd. It looks to be a very good one so far. I still have some room so if you have anything you want to sell give me a shout.
As I mentioned earlier, next week I'll be posting another collection and adding my updated price guide. Following that I'll be adding another NN segment with some recent news in the hobby.
The recent sales that I've put up have had a great response, I'll be doing many more of them in 2010. Next one will be a "Spring Training Sale" starting after the auction in March. Thanks.
John Brey
December 2008
I'm pleased to announce that I will be holding my first "Annual Holiday Sale". I'll be listing many beautiful Auction Quality dolls for a set price, if you bid the minimum, you win. No buyer's premium, just add the postage and that's what you pay. I know many of you would rather buy dolls outright so I figured we'd give it a go...
I'm trying to price the dolls fairly and realistically, most will be listed at prices similar to what I would expect them to go for in auction. Everyone has their own ideas of what they should go for, so some will seem high and some might seem low but overall I think you'll find them to be very fair. If the sale proves to be popular I'll probably do another one in the Spring.
I should have it up within the week.
Added another nice collection to my
Bobbing Head Collections
page. Looks great and many thanks to Dave for sharing it. I know lots of you out there have nice collections, why not snap a few digital pix and share them with your fellow collectors? Just email them to me and I'll fix them up and show them off.. Thanks!
I'll have a year end Nodder News Report in the next couple of weeks, in the meantime stay tuned for my Holiday sale announcement.
Happy Holidays
John Brey

A new record!!!
I'm pleased to announce that the 2nd known Washington Redskins Promo in my recently completed auction sold for the record price of $17,243 including the buyer's premium. The previous record for a bobbing head doll of $14,000 and change was set in the fall of 2005 (for the 1st Redskins Doll known). Further proof that the hobby is strong and growing daily.

For those of you on a budget, don't be alarmed by the high prices. As evidenced in my auctions there are still many deals to be had. Many collectors came away with beautiful dolls at great prices as is normally the case in my auctions.
Whats's hot and what's not:
Baseball
White Bases have been cool recently, hard to figure out why as they are still the toughest of the major sets. Gold and Green bases have been strong. Minis are about the same as they've been.
Black dolls are really struggling.. other than the really rare ones the prices have come down dramatically over the last couple of years. Can't figure out why, they are still very rare and I love their looks. I've said it before, if I'm a collector/speculator I'm snapping up every black doll I can at these prices.
Football
As opposed to black baseball dolls, the black toes up NFL series are doing great. 1965 Gold bases are strong, as are the '68's and College dolls. Square and wood bases are the same, toes up dolls are regaining some of their luster. NFL Kissers are also very strong, as are CFL dolls.
Hockey
Strong across the board, more and more collectors north of the border are joining in.
Non Sports
Very up and down. Advertising dolls, with some exceptions have been solid. Political dolls are still popular although below their previous highs. Peanuts dolls are strong, Disney's are weak. The rest have seen some record highs and some record lows, you just need to be patient to get the right price.
Next Auction in early May, consignments still being accepted but it's filling up fast!!
I need your photos! My collections page is very popular with collectors but it's really slowed down the last few months. Grab your camera, snap a few shots and email them to me at johnbrey@msn.com
You don't have to have the biggest or best collection, many small collections of 15, 20 or 50 dolls are just as beautiful as the big ones. Give back to the hobby, share your collection!
Thanks,
John Brey

2007 Year End Report
Lots to talk about so lets get right to it... This week I'll give a brief hobby overview as well as a recap of my websites, next week I'll get more in depth on what's hot and what's not..
State Of The Hobby
Those of you that have followed my reports over the years know that I try to be as upfront as I can when discussing the current state of affairs. If things are slow and prices and interest are lagging I let you know. I can honestly say here at the end of 2007 that the hobby is as strong as I've ever seen it. Prices, with but a few exceptions, have been strong across the board. I base this not only on my own auctions results (which have been very strong all year), but also on results of other auctions, private sales and EBay.
Interest seems to be at an all time high with many new collectors joining in and some "old timers" getting back into the game. This bodes well for the hobby in the near future. While the strong prices might make it a bit harder to pick up new dolls, the flip side is your existing collections should be holding or increasing their values. While most of my best customers are true collectors rather than speculators, it does make it easier to spend hundreds (or thousands) of dollars when you see the value of your collection increasing.
Here's a recap:
My auctions -
As you might have been able to tell, I've been running more auctions this year, I increased from 6 auctions per year to 8. Thanks to a group of loyal consignors I've had no problem putting together quality auctions for you and should be able to continue at this pace for the forseeable future. I've had a record number of new sign ups this year so there seems to be a good balance between supply and demand. Prices have been strong and the number of bids and bidders has increased steadily. I hope it keeps up!!! lol
My Web Site -
Dolls for Sale Page
I made the decision a few months ago to curtail and suspend the "Dolls for Sale" area of the site. This was a tough decision on my part and one that I didn't really want to make. When I started my site back in January of 2001, Tim Hunter was running the All Doll auction so any doll I had was a sale item, not an auction. I used to have 50 or 60 dolls for sale at all times and business was pretty steady. When I took over the auction from Tim a couple of years later I was still able to strike a balance between having some dolls for auction and some for sale and things still moved pretty well.
For some reason, in the last two years while my auctions were thriving, my dolls for sale section was slowing. I always tried to price things fairly, basing the cost on what I figured they would go for if I put them in auction. I'd put a bunch of dolls on and would sell a couple, the rest would just sit there for weeks (or months in some cases). Eventually I'd take them off the sales site and auction them. In about 75% of the cases, the doll would auction for more than I was selling it for, sometimes much more. The longer this pattern continued, the less inclined I was to list sale dolls. Why have my money tied up in dolls that were just sitting there when I could auction them now and make more $ as a bonus!
It's interesting that as far back as my April 2001 Nodder News I was "complaining" about this very same thing. I'm not sure what the reason is, but collectors seem to be much more comfortable bidding on dolls rather than just buying them outright..
So the reasoning is pretty simple, I can sell the dolls much more quickly and make more money by auctioning them rather than selling them.... I may give it one more shot this year, let me know how you feel about it.
Bobbing Head Collections Page
Earlier this year I added the collections page so collectors could share their collections with others. It's proven to be a big hit, I get lots of positive feedback on it . We're up to 19 collections so far but I need to get more, contributions have dwindled recently. Don't shy away if you're collection isn't huge or valuable, I personally get just as much of a kick out of the smaller specialized collection as I do with the huge one's and I know others agree.
Time to give back to the hobby, grab a digital, snap a few shots and send them in.
Bobbing Head Repair Guide
Far and away the most comprehensive study of restored dolls anywhere. The only way to stop the cheaters and liars is to call them on it.. The only way you can do that is if you know what you're looking at. Please, please read the guide and start using the techniques I talk about. If you don't, you're just asking to get ripped off.
NodderPriceGuide.com
I've had a few bugs on my system that has prevented me from updating the last few months. I'm getting those fixed and hope to have a massive update and overhaul to the site in January. It's still an invaluable tool for the serious collector, a $15 investment could save you $100's on one transaction...
Gift Certificates
I've issued many in the last couple of weeks. A great Christmas gift idea. I can email them so it's not too late....
Plans for 2008
Current plans are for 8 or 9 auction this year, depending on supplies. In addition to a major overhaul of my price guide I plan on developing the "History" sections of the site. They're 6 or 7 years old and could use some work!! Let me know if you have any ideas or things you would like to see..
Hope your holidays are great !!
John Brey

August Report
Figured I'd add a short report while the auction is in full swing. Lots of bidding so far and a bunch of new subscribers. As of today there are still a bunch of lots with no bids, fairly unusual but it might be a chance to get some bargains..
The Bobbing Head Collections page is doing great! Just added another today, that makes 14 since we started month or so ago. I've gotten dozens of positive feedbacks, everyone seems to really love it but, I NEED MORE!!!!
All of you have collections (or you wouldn't be here right now) so get your digital out and snap a few pix. Don't be afraid to send pix of the rest of your memorabilia too, many collectors collect more than nodders and it's always neat to see. Email them to me at johnbrey@msn.com and I'll get them up.
I'm finishing up my new Bobbing Head Repair page, should have it done next week. Trying to make it as informative as possible to help you try to differentiate between original and repaired dolls. If any collectors have some ideas send the my way... Thanks.
Clemente Contract
About a year and a half ago some of you may have noticed the original Roberto Clemente Bobbing Head contract that was offered in auction.
The contact was dated August 23, 1962, and signed by Clemente, his agent, and the President of Bobbie Enterprises. It granted Bobbie Enterprises the exclusive right to produce bobbing head dolls in his likeness and promised Clemente 5% of the net sales. Neat to see that they advanced Clemente $750 towards future sales. (times have really changed don't you think?)
Here are copies of the four page original which sold for $7,174 including the buyers premium. Nice example of Bobbing Head history...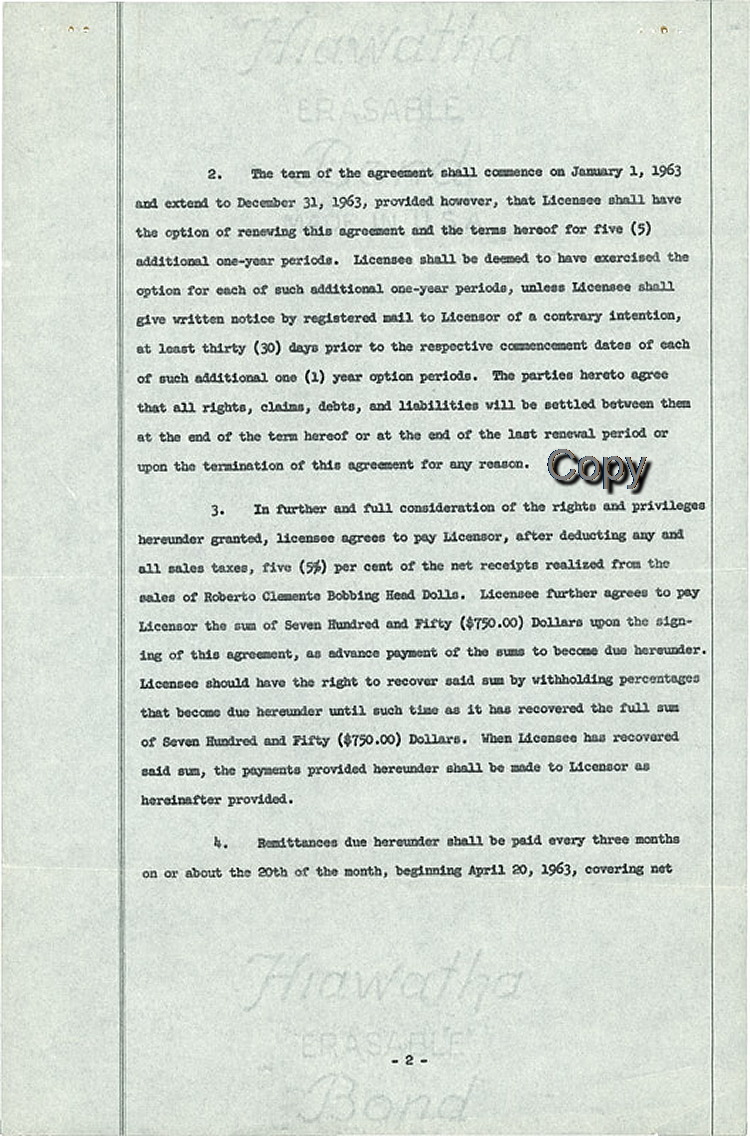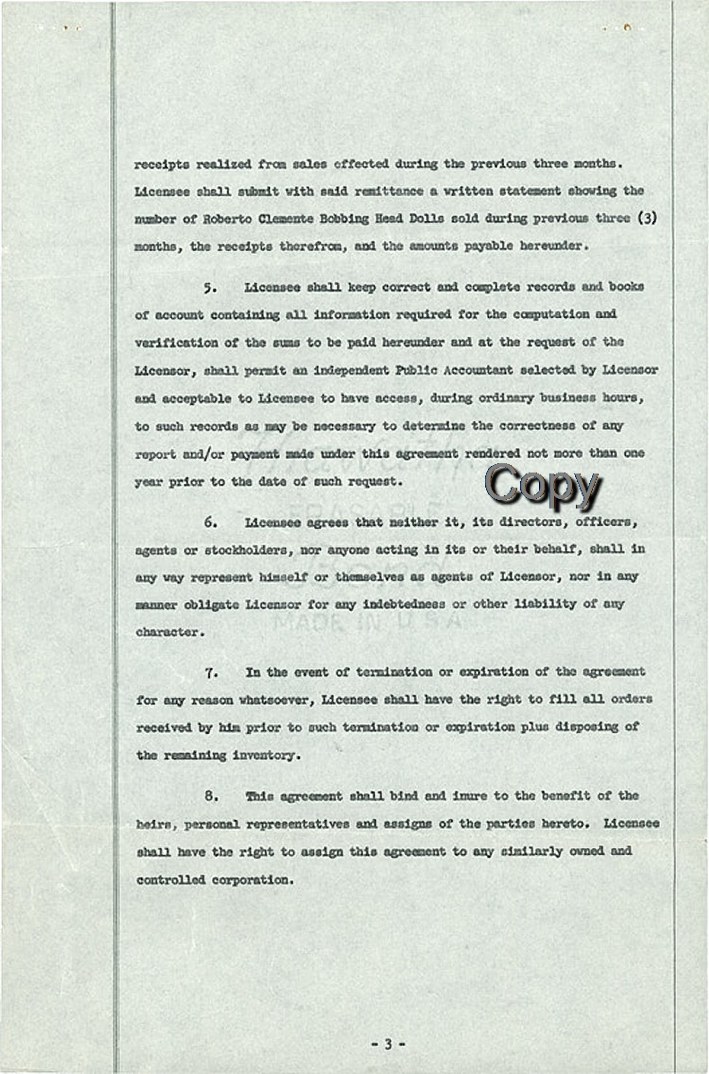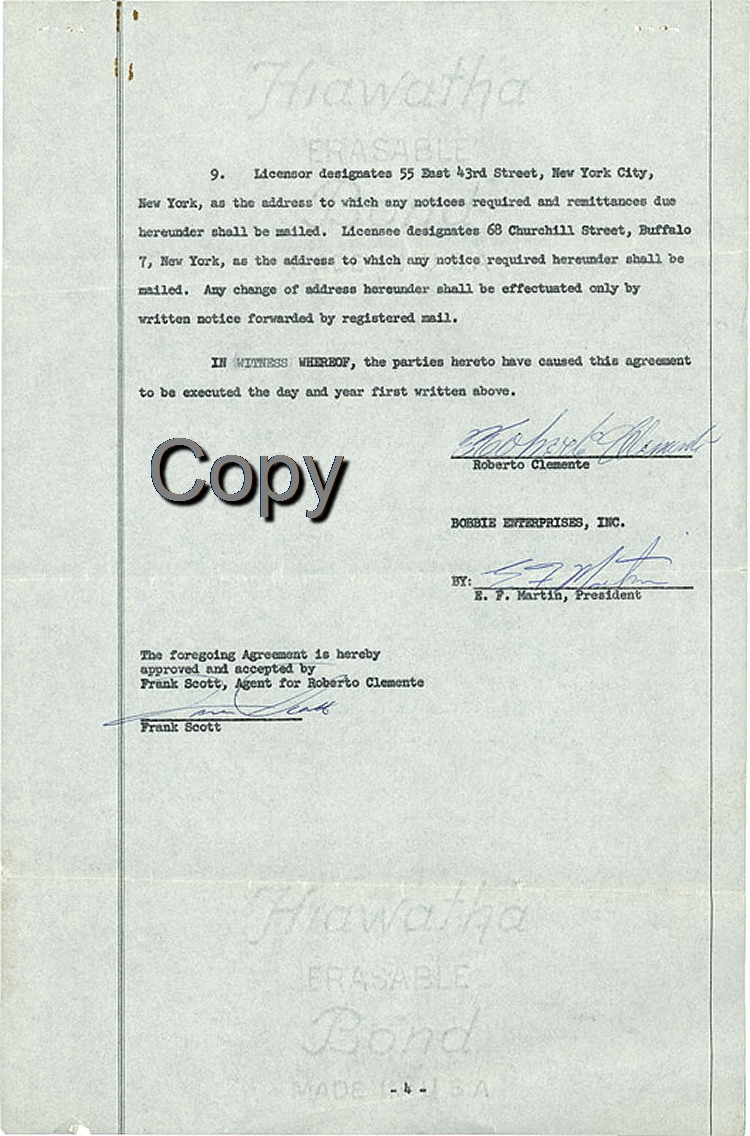 July Report
Hi everyone,
Neat announcement and then a brief State of the Hobby type report.
First off - I'm excited about my new
"Bobbing Head Collections"
page. All of you have collections that you are rightfully proud of and here's your chance to show them off!
If you're like most of us, friends and neighbors who view your collection probably look at it with a mixture of amusement and curiosity. Many think its "neat", others probably think you're nuts. It takes another collector nut to truly appreciate it.. Well here we have a community of collectors (nuts), many of whom love to check out other collections.. It's also a great way to get ideas of what to do with your own collections, how to display it, what to collect, etc.
To get the ball rolling, I've started with a few collections that have been sent to me. I'd love to be able to regularly add pictures of all of your collections to share with others. I don't care if you have 10 dolls or 1000 I'd love to show it off for you. Just send me pictures. You can add a bit about what you collect if you'd like and we can either put it up anonymously or include your name if you want to show off, either way is fine with me.
Just email your pix to johnbrey@msn.com
THIS WILL EITHER BE THE NEATEST PAGE ON THE SITE OR IT WILL SINK LIKE A STONE, its up to you!!
State of the Hobby - July 2007
The July Auction was a tremendous success. Lots in interest, a near record amount of bids and prices all around were strong. As always there were bargains to be had too, which is the way fairly run auctions normally work.
The hobby overall seems to be in terrific shape. Everywhere I look prices remain strong and everyday it appears new collectors are joining the fold. Everything I see points to a nice long period of growth for the hobby.
Gold base baseball and football have been generating good prices across the board. This is a good sign as these are the sets that new collectors historically begin with.
Baseball - Gold Bases are hot as are all dolls in Gem NrMt/Mt shape. Black dolls are cold (see below), rest are pretty much holding their own.
Football - Gold Base, AFL dolls (with the exception of the 1965 Earpad set which is struggling) College and Gem NrMt/Mt dolls are all very strong. NFL Toes Up (see below) with some exceptions are very cold.
Hockey - Pretty steady but there are fewer Hockey examples out there so it's sometimes hard to gauge.
Basketball - Lack of complete sets to work on really hurts prices. Lil Dribblers do very well across the board.
Non Sports - Up and down. Disney dolls are way down. Advertising and political dolls are well off there highs but still do very well. Rumpus Rooms have become a popular and fun set to collect.
If you're a "bargain hunter", there are a couple of areas you may want to look at. Among them would be Black Baseball dolls, Toes Up NFL Football and some advertising dolls. Here's a recap:
Black Baseball Dolls - These are all rare and historically prices have fluctuated. A few years ago I'd have no problem selling Black dolls for $1,000 and more, often quite a bit more. (Scroll down a few years in my "Past Auction Results" page and you'll see some truly astounding prices). Currently for some unknown reason, prices seem to have leveled off in the $500-$850 range for nice dolls. The Cardinal Realistic version I just had was a beauty and went for $759 with the buyers premium, I've sold that doll in similar condition for over $1400 a couple of times in the past.
Personally I love the set and if I was a collector again I'd be scarfing up every black doll I could find at those prices. I'd be willing to bet that they'll be going for a whole lot more in a year or two then they are now...
NFL Toes Up - Now here's a "set" that has me stumped. When I started as a full time dealer back in 2001, these were probably the most popular of all football dolls. Neat looking with lots of varieties, all were going in the $250-$500 range, much more for the rarer examples. Prices seem to be about half that now and I have no idea why.. really rare examples still sell well, but the others struggle.
The only reason I can see is perhaps some collectors tune out because of the often confusing subsets ("Type 1", Type 2", etc). It's actually pretty easy to differentiate if you look at my Price Guide (by the way I will be adjusting these Toes Up prices downward again) so if you really want to work on a specific set they become easy to spot.
Again, if I were a collector I'd be looking to add some of these great looking dolls to my collection at (comparatively) rock bottom prices.
Advertising - Some of the historically popular and expensive Ad dolls have lowered in price recently. While not cheap or readily available, it might not be a bad time to pick up a Happy Homer, KC Piston, or Bob's Big Boy if you see one. All are colorful classics that look super on the shelf..
EBAY Find of the week:
A customer of mine "won" this auction for a Rare Baltimore Colts Real Face doll (I've never had one for sale so rest assured it is rare).
Winning bid was $225 which would be a steal if only it was a real doll. As you can see, the decals were painted on (base decal also, although that was obscured) and if you know what to look for you can spot that it's a generic painted to look like a Colt. Doubt that the seller had any clue so I won't blame him and most collectors are in this to have fun so it's easy to get fooled.
This one had a happy ending, the guy who won is a customer of mine and subscribes to my price guide, after he won he contacted me and I told him what I thought. He was able to get out of the deal but many others have ended up spending their hard earned $$ on phony dolls. Educate yourself as much as possible. Better yet, buy from me, I'll be straight with you.
Thanks, will have another up soon.
John Brey

June 21 2007 Report
Lots to talk about as it's been awhile again since my last report.. Here goes:
Added some dolls for sale, some very nice ones at fairly reasonable prices. As my regular customers are aware, I'm not trying to hide anything and I try to describe things as they really are so you know what you're getting. Also, my next auction will be up in early to mid July. I'm working on it now so if you have something to consign let me know as soon as possible.
Auction results and state of the hobby -
As you probably know, my June auction ended last week. Overall the auction was great, prices remain strong, lots of new collectors are signing up and the number of bids and page views were as high as they've ever been. While high prices overall are great for me, it's also nice that there were still plenty of bargains had. The best part is there were many different winners so a lot of people came away happy.
Prices for top quality dolls remain very high throughout the hobby, as do the prices for minty looking restored dolls. Conversely, values of lesser condition dolls with apparent flaws continue to remain stagnant. It's become obvious to me that most collectors would rather have a great looking restored doll then a less than stellar looking original.
That being said, I think it's extremely important to the hobby that there remain a distinct difference between original gem minty dolls and restored dolls that "look" gem minty.. There are restorers out there who work on hundreds and hundreds of dolls every year (I know of one who has repaired over 25 Mantle's in the last year alone ). Many talented restorers are honest people (they sell their dolls as restored or send them to me to sell for them, knowing I'll be upfront about it), however I'm sure there are also many who won't hesitate to offer a restored doll without disclosing that fact. If a big time card dealer got caught trimming expensive baseball cards and selling them as mint they would be drummed out of the hobby (and sued by many to boot ), in our hobby everyone looks away.. In the meantime, honest collectors are spending $600-800 on "mint" Mantles on EBay that have been restored while others are buying the same beautifully restored examples from me, properly described, for $350-400.
Most collectors are in the hobby for fun and want to have nice looking dolls to look at and I think it's great that restored values have risen. A word of caution is in order however. If the lines between original and restored are blurred too much I think the hobby will suffer greatly in the long run (I'm talking disclosure, not price). Original minty dolls are very hard to come by. Period. Many being sold as mint are actually one's that have been damaged and restored to like new status. Here's a question for you... IF EVERY DOLL OUT THERE BEING SOLD WAS OFFERED AS GEM MINT WITH NO REGARD TO WHETHER IT WAS RESTORED OR NOT, WHAT DO YOU SUPPOSE WOULD HAPPEN TO THE VALUE OF THE TRULY ORIGINAL GEM MINT DOLLS IN YOUR COLLECTION?
You can ponder this question for awhile, but the only obvious answer is the value of your original dolls would go down. I hate to keep harping on the Mantle doll but it serves as a good case in point. While not the rarest , it is still one of if not the most popular of all the dolls. Years ago you could find Mantle dolls, but most were nicked and chipped up with hairlines, cracks, dulling colors, etc. If you found a true mint example it could and would go for $1000 or more as they were few and far between. Now, it seems, not a week goes by that there isn't at least one more "mint" Mantle on Ebay or various other auctions. It's getting to the point where it's easier to find a "mint" Mantle than it is to find one with damage. All of the sudden, that truly mint Mantle that you paid $1000 or more for is now going for $600 or so since there are so many "mint" ones to choose from... If you apply this example to your other original dolls it doesn't take a rocket scientist to figure out that if the line between restored and original continues to blur your original collections will be worth less.
In order to prevent this, you need to know who you are buying from and you need to become as educated as possible. I'll be posting a new page on the site regarding repaired dolls, what to look for, etc. It will have dozens of pictures and examples and hopefully will help you figure things out. I'll tell you all I know (that shouldn't take long) and I've enlisted the help of several knowledgable collectors as well as a master restorer who should be able to offer many valuable insights. It will be a huge improvement over the page I used to have which was useful but overall too general. Look for it on my site within a few weeks. Thanks, feedback is welcome!
John Brey
(I'll have another real soon, will get back to highlighting some sets).

May 24 2007 Report
Hi everyone, as I had mentioned I had some computer issues that set me back a bit lately, hopefully I can get back to a normal updating schedule now that things are back in gear.. I thought it would be interesting in the next few reports to continue highlighting some of the more obscure sets of dolls that are out there. I thought I'd start with the Rugby/Australian Rules Football dolls.
Before I start, keep in mind that as an American sports fan I know Football, Baseball, Basketball, etc, so I'm not exactly astute when it comes to this sport. I've tried to do some research, but it appears there are 100's of different leagues, divisions and governing bodies so it was all pretty confusing.
I do believe that most of the dolls issued in the early 60's were examples of the Australian VFL, the Victorian Football League. As I'm sure you can imagine, these were made for and imported by Australians so they are all extremely rare here. I have no idea how many different teams were produced but I will add these to my price guide and update them as more are discovered. ( If anybody has one not listed here a picture would be greatly appreciated!!! ) So far I have documented 12 different teams:
Brisbane Brothers Brisbane Wests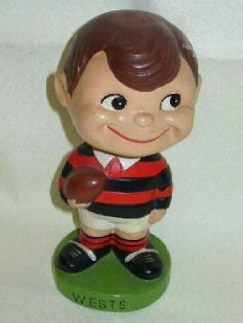 Carlton Canterberry Bankstown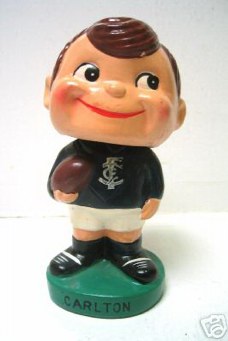 North Adelaide Norwood Port Adelaide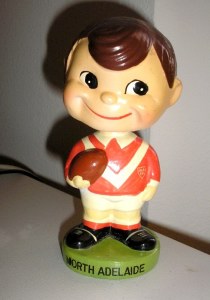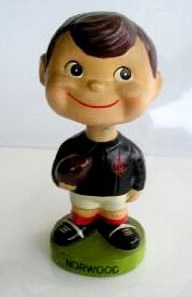 St. Kilda, Geelong and Footscray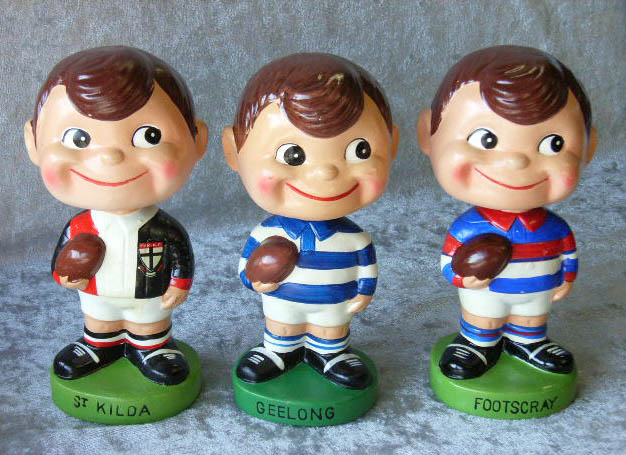 Richmond South Adelaide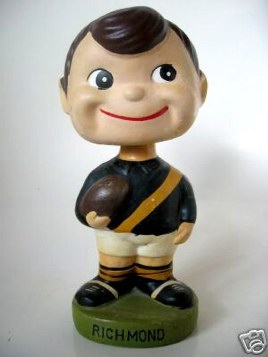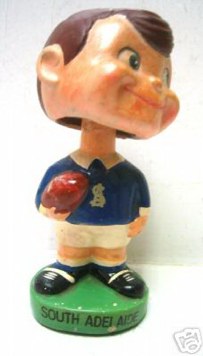 I don't believe I've seen more than one example of any doll, as I mentioned they are all very scarce. Prices of the one's I've seen for sale have ranged from $300-600 each, since they are all so rare it's probably impossible to figure out which franchises are the rarest.
If you have the time, patience and $$$ and are looking for a real collecting challenge, here it is!!
John Brey

Weekly Report 5/3/07
Prototypes
Definition: 1. original used as model: the original form of something, which has the essential features and is the model for subsequent forms
To me, prototype dolls are some of the neatest and historical dolls there are. Prototypes are basically original molds from which the vintage dolls that we collect were modeled after. I would assume most of these were one of a kind (or a few of a kind, maybe), and were not sold or produced. I'm sure there was a lot of trial and error and would assume that most of them were destroyed. Obviously they are very rare and don't show up often for sale.
Rare Find - College Prototypes
A long time collector and good customer from Texas sent me these pictures the other day. These were obviously prototypes for three College dolls, Cal Bears, Penn State Lions and Stanford Indians. He was fortunate enough to discover these dolls years ago at a flea market and scooped them up quickly. He's never seen anything remotely similar since and neither have I..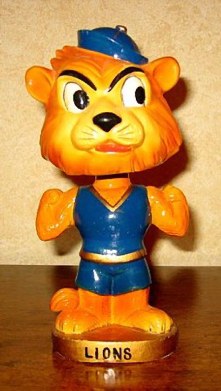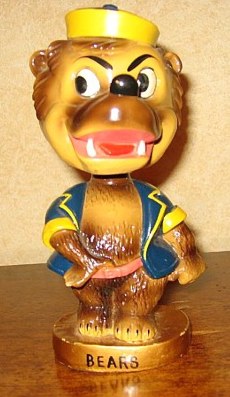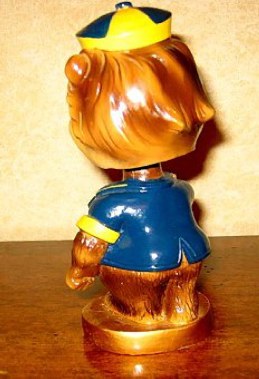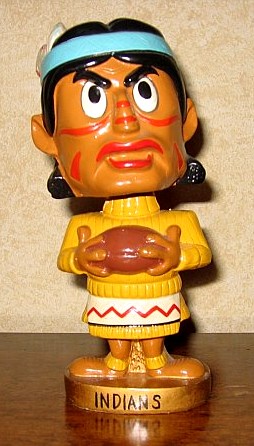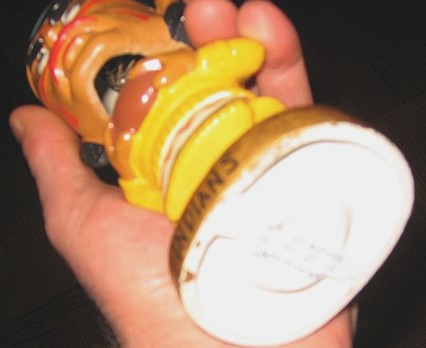 As is normal for prototype dolls, the decals are handwritten.
Here is what is on the bottom of each doll:
Lions - In pen is written: NO 1 and stamp reads: JAPAN PAT. # 218613 U.S.A. © 1962 (Made in Japan)
Bears - In pen is written: NO 3 and stamp reads: JAPAN PAT. # 2186 (these are the only numbers, it was stamped where part of the stamp is not flat and doesn't show. U.S.A. © 1962 (Made in Japan)
Indians – In pen is written: NO. 11 and stamp reads: JAPAN PAT. # 218616 S.S. ORP. © 1962 (Made in Japan)
Judging by the writing on the bottom, it would seem that there were at least 11 different dolls made. It's kind of a shame that these weren't produced and marketed, they are awesome looking dolls. I see a resemblance between the Lions body and the issued Baylor Bears mascot, but that's about it. Keep your eyes pealed, if anyone knows of any others out there let me know.
NFL Protos
Here are some pictures of NFL prototypes that I have seen. No Japan dolls used these molds, although it would appear that the 1970's plastic "running back style" (see Bills doll) were modeled after these.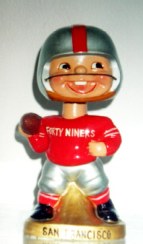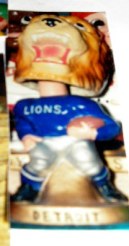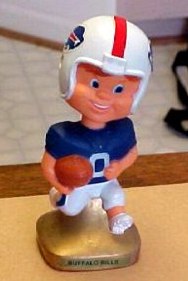 Here's a doll that I don't know what to make of.. Colts doll on a diamond shaped base that looks just like the Oriole Gold Base. I've only seen this picture so I don't know if it's a legitimate prototype doll or not, but it is pretty cool.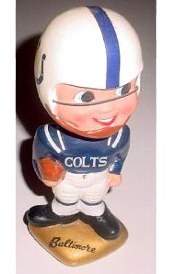 If you have pix of any others to share, let me know.
Baseball Protos
Probably the 2 most famous baseball prototypes are the original Green Base Mays and Clemente's. Also note that the Clemente is a completely different mold with hands on hips rather than holding a bat. I've never seen examples of either.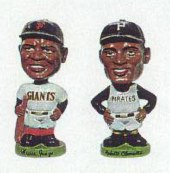 If you look around you'll find literally hundreds of different molds for baseball dolls. Most of them are generic, however one prototype of a Chicago White Sox doll on a wood base is really neat. I've never seen another and the mold was never used, a real find.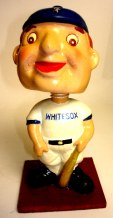 Also, another astute collector sent me a picture of what appears to be an original Winnie the Pooh prototype. The green paint is original and the writing on the bottom which includes the Art # would appear to indicate that it was an original prototype.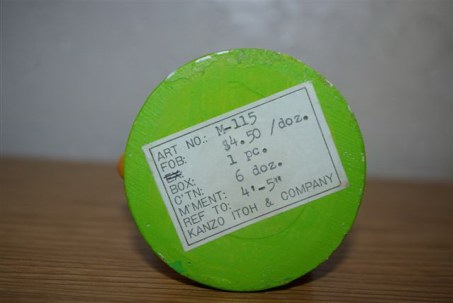 That's it for now, will have another report shortly.

Weekly Report 4/3/07
Hi guys, sorry for the delay. I found out recently that we may have to move out of the house for awhile while they are repairing the damage from the tornado. I've been busy trying to get the next auction done as well as wrapping up all the dolls I have here so I've fallen behind..
Good news is the auction is right on schedule, should be up next Tuesday, April 10th. Lots of dolls and lots of variety this time. Stay tuned.
My Top 10 Toughest Baseball Dolls
I've had many conversations over the last several months with customers, the topic of which dolls are the toughest to find is always fun to talk about. I did a column on the toughest Advertising dolls a while ago, I thought I'd tackle the toughest baseball dolls this time..
I limited my list to the 6 major sets:
1960 Color Base
1961 White Base
1961 Minis
1965 Green Base
1967 Gold Base
1970 Wedge Base
I didn't include the Black player set (all are tough and undervalued at this point in my opinion), nor did I include "Oddballs", there are just too many varieties to choose from there. Here's MY list, feel free to disagree if you like or send me your own list:
1. Chicago White Sox Wedge Base - I've only seen this doll once, a couple of years ago. Never knew it existed until then, any others out there??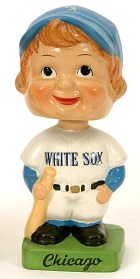 2. Minneapolis Twins White Base - Not the mini (which is rare in it's own right), this is a full size white base with the Minneapolis decal instead of Minnesota. I've seen one, heard of another. One of the few dolls that I don't have a picture for in my price guide. If you have a picture, it would be appreciated.
NO PICTURE AVAILABLE
3. Orioles Boy Face Mini - I've now seen 3, obviously very, very rare.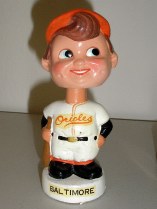 4. & 5. Cards and Phillies Wedge Bases - Both extremely tough, I know of 3 or 4 of each. Cards lacks decals, Philadelphia is misspelled on base.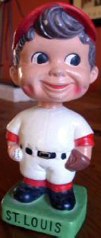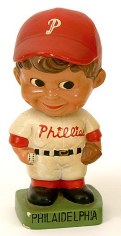 6. Washington Senators Color Base - Quickly replaced in production by the Twins doll, always has been tough to find but lately has been impossible. Numbers wise more available than the previous dolls but this set is more widely collected than the Wedge examples.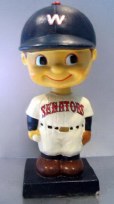 7. Anaheim Angels Green Base - I had this doll once, about 5 years ago and lost it (don't ask!). Have not seen another since. Like the Anaheim White Base, this had a paper label glued to the base the first time the angels were supposed to move. Very rare, don't have a picture.
No Picture
8. Cleveland Indians 1960 Color Base - Very rare, I've seen 3 or 4 examples in the last 5 years.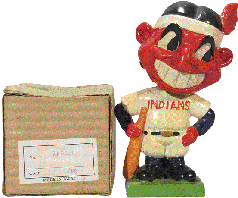 9. KC A's Green Base - Yup.. If you ask me, over the last 3 or 4 years this has become one the most difficult dolls of all to find. I've been looking and can never find one. probably not as limited numbers wise as some of these, but based on the wide popularity of the Green Base set this has become a much sought after doll. And by the way, the light hat version is at least as tough as the dark blue hat.
10. Houston Astros Gold Base with Shooting Star - Very tough, in my mind it's far and away the most difficult gold base to find.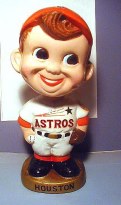 Honorable Mention (In no particular order)
Pirates White Base
Colt 45 Blue Jersey White Base
Anaheim and Minneapolis Minis
Hawaii Islanders Gold Base
KC A's Gold Base
Seattle Pilots Gold Base
Willie Mays Gold Base
Washington Senators Gold Base
Chicago Cubs Wedge Base
Denver Bears Wedge Base
More next week - Send me your ideas.

Weekly Report 3/15/07
Interesting report this week, I think (hope so anyway).
First off, the auction was great. Many bids and lots of participation. Nicest thing for me was that there were almost 50 different winners. More paperwork and shipping that way but it's great to have so many happy customers!! Another real plus was the large number of new sign ups, the hobby seems to be doing very well.
As always, there were some bargains as well as some dolls that did better than anticipated. That makes for a good auction all around. I'm getting to work on my next auction due up in mid April so if you have anything to consign, let me know ASAP.
Speaking of auctions, below are some pictures of some extremely rare college dolls that appeared on EBAY in the last week or so. Scroll down and check them out along with the winning bids that they generated... then read what I have to say.
$190
$315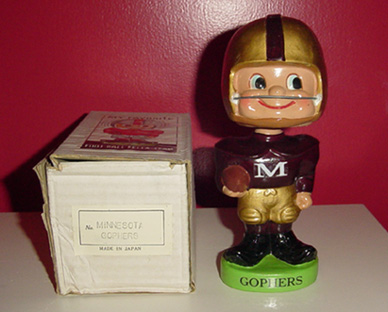 $99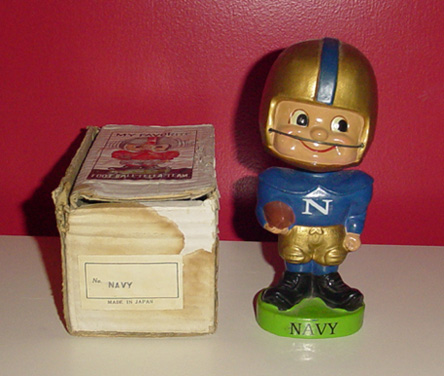 $232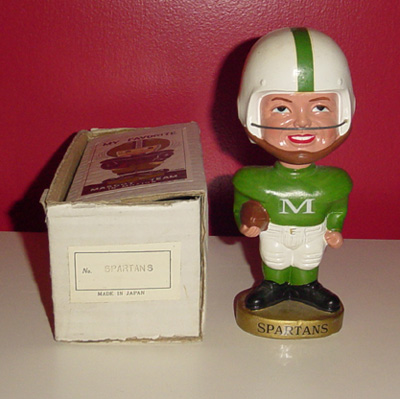 $173
$427
Ah.. the joy of EBAY, you can always find rare mint dolls! Only problem is all 6 of these dolls are fake. Somewhere along the line, someone picked up a bunch of generic dolls (you can normally find them for $40-$50) and found a nice decal kit. Presto, a generic maroon doll became a $315 Minnesota Gopher, a red square base becomes a $427 Badger, etc, etc!!!
Let me point out that I have no idea who the seller is.. nor do I really care. I'm not here to cast aspersions on anyone, there's a good chance that he picked up these dolls (or they were consigned to him) and he sold them in good faith, not knowing the difference. The point is, if you're buying from someone you don't know you're assuming that the person is both honest and knowledgeable about vintage Bobbing Heads. That's an expensive assumption to make!!! In this case, $240-$300 worth of Bobbing heads sold for $1436.
I noticed these last week and I considered sending out a warning, however I was busy with MY auction (plenty of genuine College Dolls properly described), and decided that if someone was bidding on EBay rather than with me, that's up to them and they would have to deal with the consequences. I try to provide as many dolls as I can, describe them fully and honestly, and price them fairly. I also have the Price guide that has pictures and approximate prices of almost every real college ever made so that collectors can get as much knowledge as possible. Hopefully none of my customers got stuck.
While we are taking about auctions, here's another reason to buy from someone you trust and knows what they're doing. Here's links to two current EBay auctions:
170090035248
170090033342
Now, this is the kind of seller that EBay needs more of, an honest fellow who is doing the right thing. He could be selling these as mint (the way he bought them) but instead had them checked out and is now taking the high road. It's a shame he got misled originally, but hopefully he'll make out OK.
That's it for now, if you need anything, let me know.. John Brey

Weekly Report 3/1/07

Hi all, auction is off to a great start, lots of variety, hopefully something there that you need. Let me know if you have any questions at all. Thanks. John Brey




Bobbing Head Price History

Part Two 1968 Gold Base Football Set (Also referred to as the Merger Series)

Last time we studied the price history of the White Base Baseball set. Please scroll down to read that as well as to read the disclaimers regarding "investing" in Bobbing Heads.

This week we'll move over to football. I chose the 1968 Gold Base set for several reasons: It's the biggest and most complete set, it's the most actively collected of all the football sets, and prices are normally pretty steady and reliable. Very popular set with new collectors, not rare but difficult to find in top condition.




Assumptions :

Total prices are for a full set (27) of NrMt/Mt dolls. Does not include the more expensive color variations that can be found with some teams.

Prices are based on written Price Guides from Tim Hunter (1988, 1996, & 1999) and www.NodderPrice Guide.com (2006).

Values are based on dolls in unaltered NrMt/Mt condition. As you know, prices can fluctuate greatly so use this as a comparison guide.




1988 Prices

1996 Prices

1999 Prices

2006 Prices

$865

$2,595

$3,490

$4580





As you can see, like the baseball dolls, prices skyrocketed during the 8 year period between 1988 and 1996. During the 80's Football dolls were rarely collected, you could regularly pick up dolls for $10-25 very easily. Prices finally began to increase in the early 90's as more football collectors joined the fold.

Prices for this set have continued to rise regularly in the last 10 years, at least for high end dolls. Battered and bruised dolls have really leveled off and probably dropped a bit in value the last few years.

"Investment summary"

If you had purchased a full set of Gold Base Football dolls in 1988 your total return would be 793% (44% , not compounded, per year)

If you had purchased a full set of Gold Base Football dolls in 1996 your total return would be 76% (7.6% , not compounded, per year)

If you had purchased a full set of Gold Base Football dolls in 1999 your total return would be 31% (4.5% , not compounded, per year)

Obviously, depending on when you purchased the dolls you either did great or just OK, investment wise. Good news is you have enjoyed the hunt, admired your collection, made some friends and could sell it for more than you paid, no matter when you bought it. Probably couldn't "outperform" the stock market but it beats spending money on high tech gadgets or stereo equipment that are worthless after a few years!!

Will have plenty more price histories in the months to come as well as some speculation on future prices. Enjoy.




Weekly Report 2/16/07




Bobbing Head Price History

Part One 1961-63 White Base Baseball Set

I often get the question, " are Bobbing Heads a good investment? ". To try to answer that, over the next few months I'll be publishing some "Price Histories" on various sets so you can get a good idea of where prices were at various time periods and maybe use that as a guide or estimate of future prices.

Before we go further on the subject, the party line here is that you should collect Bobbing Heads for enjoyment, not to try to make money. While that may be easy for me to say (I'm a dealer for Pete's sake) and may seem disingenuous to some since I make a living selling these things, the fact is you can probably make more money, more safely investing elsewhere than you can "investing" in Bobbing Heads. If you're looking to fund your retirement or put your kids through school, set up an IRA or educational IRA and fund it with mutual funds, bonds or whatever your risk tolerance will bear.

However, if you have some extra cash, want to furnish your den or sports room with the neatest most colorful display pieces of all (and probably get your money back or make a few bucks if you decide to sell) than this is a great hobby. It's fun and challenging and there are 100's of ways to put together your perfect collection.

We'll start with the 1961-63 White Base Baseball set. Always popular, prices are normally pretty steady and reliable. Very popular set with experienced collectors. Fairly difficult to find in top condition.




Assumptions :

Total prices are for a full set (26) of NrMt/Mt dolls. Includes the 20 franchises as well as the following variations: Anaheim Paper Label, Colt 45 Blue Jersey, Willie Mays, Mickey Mantle, Roger Maris, and Roberto Clemente. Does not include the almost impossible Minneapolis Twins version.

Prices are based on written Price Guides from Tim Hunter (1988, 1996, & 1999) and www.NodderPrice Guide (2006).

Values are based on dolls in unaltered NrMt/Mt condition. As you know, prices can fluctuate greatly so use this as a comparison guide.




1988 Prices

1996 Prices

1999 Prices

2006 Prices

$1,760

$10,775

$11,975

$14,110





As you can see, prices skyrocketed during the 8 year period between 1988 and 1996. During the mid to late 80's the hobby was in it's infancy, there were hundreds of collectors, rather than thousands. The first pricing boom occurred during the late 80's to early 90'd and prices doubled and tripled quickly as more and more collectors caught the fever.

Prices continued to rise steadily through the mid 1990's, not dramatically but fairly consistently. After a bit of a lull, prices increased dramatically again in the early 2000's, fueled in part by the "Bobblehead Mania" as well as the increased exposure through Ebay.

While it's certainly open to debate, I'd say that overall prices now are somewhat below the levels of 2 years ago. Participation, the numbers of collectors and interest are higher, although it appears collectors are becoming a bit more educated and discerning on what they spend. Another important factor in the price softening is the fleeing of speculators and fast buck artists who flooded the place a couple of years ago in their attempt to get rich quick. I recall many instances where would be dealers were bidding out of their butts on several high profile auctions a few years ago, literally putting in bids on large lots that were in some cases 50-75% more than the break up values of the lots. I must confess that it did my heart good to see many of these hit and runners lose their shirts when they tried to resell those lots on Ebay!!! Funny, but these guys seem to be long gone now, probably chasing there next pot of gold. Good riddance.

"Investment summary"

If you had purchased a full set of White Base dolls in 1988 your total return would be 702% (39% , not compounded, per year)

If you had purchased a full set of White Base dolls in 1996 your total return would be 31% (3.1% , not compounded, per year)

If you had purchased a full set of White Base dolls in 1999 your total return would be 18% (2.5% , not compounded, per year)

HINT - Next time your wife wants to kill you for spending $100 (or $1,000) on a bobbing head, show her the 1988 and 2006 charts !!

Obviously, depending on when you purchased the dolls you either did great or less than OK, investment wise. Good news is you have enjoyed the hunt, admired your collection, made some friends and could sell it for more than you paid, no matter when you bought it. Probably couldn't "outperform" the stock market but it beats spending money on high tech gadgets or stereo equipment that are worthless after a few years!!

Will have plenty more price histories in the months to come as well as some speculation on future prices. Enjoy.




Weekly Report 2/9/07
Wow, what a week. As you know our neighborhood got hit by a tornado last week, the odds of that are like winning the lottery, just my luck that this is my way of beating the odds. After a week of taking pix of damage for insurance purposes and the like its really nice to get back to taking pictures of bobbing heads!! Last words on the tornado.. here's a picture of our neighborhood a few days later (our house is circled). As you can see compared to some of the houses less than 100 yards away we got away lucky. I need a new roof, new siding, and a bunch of other things but the interior damage was relatively minor so we're able to move back in. Many of my neighbors houses were really trashed inside and out, some will have to be leveled and rebuilt!
Many, many thanks to all who wrote, it was very much appreciated
Now, on to Bobbing Heads!
Here is an email I received last week from very good, very knowledgeable collector from California. Unfortunately his experience is not uncommon, in fact it happens regularly. As an experienced collector he was astute enough to discover the repairs, most collectors don't have that ability (nor should they have to!). Here's the letter and my reply.. I'll be following up on this topic soon!
Subject : Good dealers, bad dealers and repaired dolls....
Hi John,
I felt compelled to write you this note and hope you will share it with others on your web site. It is in regards to the number of repaired nodders out there, and the many people who sell them either as "original" or claiming "not to be an expert" in the bobbing head field. I have been a collector of vintage dolls for about 7 years now, and believe me when I tell you that I have learned the hard way and have "lost" thousands of dollars getting my education. My collection is close to 200 nodders, some very rare and most are all original. Unfortunately, it took me several years to learn who to buy from and who to stay away from.
I will say now that I have NEVER purchased a touched up or repaired doll from YOU that you did not represent as such. I have, as you know, been a customer of yours since the "early days" of the Nodder Exchange ( remember the Tim Hunter phone auctions ? ) and I can truly say that you represent our hobby honestly and fairly. I am sure (we are all human) that the temptation to "slide" an expertly repaired doll by a novice collector has entered your mind at one time or another, but my experience with you for all these years has been that you have NOT caved in to this! It is for this reason that unless I can examine a nodder in person ( collector show, shop, etc. ) I will not be buying from anyone other than you.
Recently, I purchased 2 very rare dolls from a dealer through an auction. I have been doing business with him for about 4 years, and most of the time I have received what I was expecting. Notice I said "most" of the time. I have returned nodders to him and received refunds before. However, when I got this recent package in the mail and opened it I could see immediately that there was a touch up under the hat brim of one of the dolls. This prompted me to get my black light and examine it in more detail. Indeed, I found a small repair to the inside back of the head rim ! Then I inspected the other nodder and found a repair on the hat brim as well, and a completely repainted base with a "fake" decal ! My shock turned to anger. There was NO WAY that this dealer did not know what he was selling me. He had represented both items as being original...and he was indeed an expert. With a black light, and even without, anyone with just a little hobby knowledge should have easily spotted these! I will not identify this auction/dealer in writing here, but he has obviously lost a good customer for life from me. And I will do my best to let my friends in the hobby know of my experience. I did not attempt to return or contact him this time at all. Enough is enough, I wash my hands of this person.
I have made a list of things to help new ( and old ) collectors so they can enjoy our wonderful hobby while limiting there exposure to the many crooks that lurk out there....
1. Know who you are buying from ! While there are reputable people out there, there are many more dishonest ones. Ask around, most of the "bad guys" are well known in the hobby.
2. When buying on-line ( E-bay is a good example ) always know the sellers return policy. If you can't return it for a full refund, don't buy it !
3. Buying repaired dolls is ok ( I personally don't usually buy repaired dolls ) so long as you KNOW THEY ARE REPAIRED. Just don't pay "original" prices for repaired dolls.
4. Learn what to look for. Invest 10 bucks for a good blacklight. Yep, just like they use on the T.V. show "C.S.I." They truly work and can help you easily find touchups, hairline cracks and repairs. I can't stress this enough. Buying a Bobbinghead doll today without using a blacklight is just plain stupid. Selling one without first inspecting it with a light is outright irresponsible.
5. Be patient. If you find a doll you have been waiting for don't let your emotions control the transaction. Ask yourself if the doll is in the condition/grade you really want. Is the seller reputable? If its an auction, set a "max" bid that makes sense and stick to it.
6. Condition is EVERYTHING. If money is not an object, always buy NrMt/ Mint dolls with out repairs. ( Some very rare dolls may be the exception here ). If you are on a budget, go with quality over quantity. Trust me on this one.
7. ENJOY the hobby. It's NOT the stock market !!!! While prices still can go up, the days of fast and huge price gains are probably over. These things are truly cool to look at, an era of art work that is days gone by. - " California" Roy
My response:
Hi Roy,
Thanks for writing, sorry you had a bad experience, unfortunately it happens often, as I'm sure you're painfully aware. I'd be glad to share your letter in the next nodder news. Your story as well as your suggestions should be very informative/
I do appreciate the kind words. I decided from the first day I started this that I would be 100% upfront about anything I sell. I assume anyone who buys a doll from me knows as much as I do, so if I can spot something, they could too. I'm sure I've missed a few in my day, but I'm confident that they are few and far between. As you can imagine, its often frustrating when I see a restored Clemente sell on EBay for $2500 and I sell a similar doll for $1500 because I was honest about it. The good news is there are more and more knowledgeable collectors like you who appreciate my honesty and have become very loyal customers.
Thanks, stay in touch. If you have anything else you'd like to share with other collectors please let me know.
John Brey
www.nodderexchange.com

Weekly Report 1/30/06
My motto has always been, a half assed effort is better than no effort at all..Probably not words to live by, but what the heck. I missed last week with the auction going on, I have some neat stuff I'm working on for you but its not ready yet.. So, here goes:
Auction Results - Overall it went very well. Lots of rare high end dolls exceeded expectations, others by and large did well too. A few exceptions:
WHAT IS UP WITH BLACK DOLLS? 12-24 months ago Black dolls were hot as hell, baseball, football you name it they were selling for big numbers. Not sure what to make of it, they sure haven't become common, but they have gotten cheap all of a sudden. The Browns Toes Up in this auction was bid up to $1700 a year or so ago on Ebay (reserve not met), now it sold for $900 plus the BP (maybe $1100 total) and I'm not sure I've seen one since the last one.. If I were a collector I think I'd be scarfing up every black doll I see at low prices, they've gone up and down over the years but this is about as low as I've seen.
Another interesting set(s) that have experienced a real downturn in prices is the NFL and AFL Toes Up dolls. Not sure what to make of this either as I've always considered these to be the neatest football dolls made. Perhaps it is confusion as to which set is which (although I try to spell things out in my price guide) but these dolls are down about 50% over there previous prices. Cases in point are a recent Steelers "Type One", went for $300 plus the BP, I sold the same doll for $$550 to a collector a year or so ago.. and that was a fair price. I have a very rare Dallas Texan 1961 AFL Toes Up, lightly repaired. First one I've had in years, probably should go for $750 or so (I've sold a NrMt+one for close to $2000 not too long ago) but I might be holding on to him for awhile. Have there been run on 1961 AFL Dolls that I missed?
Prices on gem NrMt/Mt dolls are very strong (gem mt most places), also prices on nicely restored dolls are climbing everyday. I'm an "expert" and it often is virtually impossible to tell that something has been re-done, if you are a casual collector and don't have a bias against repaired dolls it's a chance to get minty looking dolls for less.
I'll have much more real soon..

Weekly report 1/12/06
I received a nice email recently from long time collector Bruce Stjernstrom in response to my "Top 10 Toughest Advertising Dolls" list in the September Nodder News. (you can scroll down the page to see it). Bruce has been collecting for many, many years and has one of the most extensive collections of vintage Bobbing Head dolls in the country. Some of you may recall seeing his name attached to many of the pictures in Tim Hunter's old price guide. Here's his original letter and some thoughts..
John,
I was very interested to read your recent list of tough to find
non-sports advertising nodders. I will agree that they are all tough to find! The last
few years I have focused on buying non-sports and there have been some real
challenges. Here are some of the tough ones in no particular order.
Batman
Robin
Nelson Rockefeller
JFK Bronze
Old King Cole
Wolf Man
Frankenstein
Phantom of the Opera (brown square base)
Dick Tracy
Popeye
Mr. Magoo
Westec Security
Captain Bob Lo
NASA Astronaut (blue base bank)
NASA Spaceman (says Spaceman on blue base bank)
1962 Seattle World's Fair
Natural Gas Genie (two or three colors produced)
WAVY TV
Subby
Tom Pouce Restaurant
Poll Parrot Shoes
Mickey Mouse (green square base)
There are others of course. I think the Rockefeller, Batman and Robin
may be the most difficult. As far as the Campbell Kids are concerned, I am
not sure that I have ever seen them. Have you? I have seen something that
looks like a "young child baker" that is 10 inch tall bank and looks
similar to the NASA Spaceman. There is no indication on the base that it is
a "Campbell Kid". I guess that is what makes this interesting. No one has
all of the answers.
Best regards,
Bruce Stjernstrom
In corresponding with Bruce a few interesting things came up:
Bruce said he has seen a legitimate Mr. Magoo doll similar to the Popeye and Dick Tracy dolls, square base with block lettering.. I had never heard of that one and didn't know it existed until now. If anyone has a picture I'd love to have it for my price guide.
Neither of us has seen a Westec Security doll.
Neither of us has seen a Campbell Kid's set. At this point in the game I would doubt that they exist if not for a column that Tim Hunter wrote many years ago where he indicated that he had seen the girl once.. I'll keep looking.
The Robin doll that recently popped up was the first either of us had seen although Bruce had seen a picture many years ago.
I know of two Rockefeller dolls that exist, one was sold back in the 90's in the All Doll Auction, another went a year or so ago in an ITPC auction. It's similar to the Eisenhower doll and doesn't have a decal.
Many thanks to Bruce for his contributions. If anyone has anything they'd like to share please let me know.

Weekly report 1/5/06
Hey, it's time to start giving more back to the Bobbing Head community... Weekly reports from here on in. Some will probably be lame but hopefully most will be interesting.. Lots of news, both current and historical, anything you want to add just send it along....
1990 Warehouse Find
Mini Hockey
I've always found this a neat subject.. I've been collecting for 20 years and have seen a few "finds" that have really shocked the hobby and stood prices on end. The good news for current collectors is that no real new finds have come up lately, a few multiples have popped up here and there but nothing to get worried about.. Here's a brief history lesson of one of the more important "factory finds" :
1990 Hockey Mini Find - For those of you who are fairly new to the hobby, you're probably aware that the 1961-63 Mini Hockey NHL Set contains some of the most common and available dolls of all. The Montreal Canadiens and Detroit Red Wings are very common, normally selling in the $40-60 range. The Maple Leaf is only slightly less difficult to find, while the Black Hawks and Bruins are a bit tougher but are still normally availble for $100 or less, even NrMt/Mt in it's box. Only the NY Rangers remains elusive.
Well collectors, let me tell you a story...
Once upon a time (figure 1987-1990) when the vintage Bobbing Head market was forming, mostly thanks to the efforts of our old friend Tim Hunter, hockey minis were generally considered to be the rarest of all sports dolls. In many circles it was even contemplated that they were a myth, that they didn't even exist.. (remember these were the days before the internet and EBay).. If and when they did show up for sale, they would regularly sell in the $500 ++ range, which in 1989 dollars was.... well alot..
In early 1990, there was a "warehouse find" of Detroit, Montreal and Toronto dolls. All like new in their original boxes. A few months later, there was another find of unissued Chicago and Boston dolls, although from what I hear, in much lesser numbers. Hundreds of dolls hit the market at once and within a few months prices went from $500 to $50 !!!! (Keep in mind that back in the day there were several hundred collectors, not several thousand like there are now).
It's interesting that 15 years later themini dolls are still pretty cheap (as a matter of fact, not much different than after the find). My hunch is the Boston and Chicago dolls are pretty under valued.. The other 3 should probably be worth more but the quality is normally lacking so its hard to say for sure.
The most interesting point of this story is the NY Ranger mini doll. In 1989, the doll was almost unheard of, like the other minis, and sold in the $500++ range along with the others, if you ever found it. Today it remains the only mini that was never found in quantity and is as rare as it was in 1989.... As recently as 1990, historian Tim Hunter was questioning whether it even existed... Be careful though, many dolls have been redone into Rangers.. a real NY Ranger will have a light blue jersey and a stenciled base (like the other minis), not a dark blue jersey or a decal on base.. A true Ranger mini will run $1000 plus, if you can find one.
MORE NEXT WEEK

Nodder News End of Year Report 2006
Summary
Overall a very good year for the Bobbing Head Collecting community. From my observations we've had many, many new collectors joining the ranks which is essential for continued growth. Prices have stabilized some over the last 12 months, I haven't seen quite the wild variations that we had in the past, probably the result of collectors becoming more educated and having a better idea as to what things go for.
How about we do a CHEERS and JEERS kind of thing? I've seen that in TV Guide and I think it 's pretty neat. Here goes, my:
CHEERS AND JEERS for 2006:
JEERS to me I've been spending time putting up my auctions, selling dolls and working on my price guide but need to get back to doing regular "educational type" endeavors and continue to fight against "Bobbing Head Abuse" like I did in the past. My resolution is to be more informative and helpful to collectors this year.
CHEERS to my loyal Customers!! I can't believe that there is another business out there that has a better customer base. I sold over 1.000 dolls this year, final tally is 1 reneger and 0 bounced checks!! Almost everybody pays right away, I never have to chase after money. Many, many thanks!!!!!
Cheers to my Consignors!!! Everyone who participates in my auctions should appreciate the dolls my consignors send me.. It's very tough to offer up 6 or 7 auctions loaded with quality dolls, it would be impossible without my regulars. Many thanks to you guys and hopefully you've made plenty of $$ for your troubles.
Cheers to the few national memorabilia auction dealers who give the same consideration to Nodders that they do for their other items (autographs, cards, game worn memorabilia, etc.) I've been called in to grade dolls for the Robert Edward Auctions in the past so I know they care about us collectors. Lately, I've noticed one or two others who are actually attempting to verify whether the dolls they are selling for huge amounts are legit and describing them accordingly. Here's hoping that continues, I will keep you posted.
(FYI - I've had many restored high end dolls sent to me on consignment. Often, after examining them and indicating that they were restored I was asked to send them back. Many (MANY!!!) show up later in these online auctions (Gem Mint of course) BOBBING HEAD COLLECTORS SHOULD EXPECT THE SAME STRICT GRADING AND AUTHENTICITY POLICY AS AUTOGRAPH COLLECTORS GET. If someone spent $1000 on a fake autograph there would be hell to pay, when someone buys a $1000 restored nodder that was sold as Gem mint it gets dismissed, that's not right and it has to stop, We deserve better!!
JEERS to the rest of the national memorabilia auction dealers who don't give damn or are not knowledgeable enough to tell a mint doll from a restored one. The above guy gets the dolls back, sends them to the national memorabilia dealer, they list them as gem mint and get max prices. Everyone is happy !!! (Until and unless the buyer figures it out, usually years later). Ever wonder where they get 5 or 10 or 20 or 50 rare gem mint dolls (not a touchup or repair in sight)?? Stop wondering.
CHEERS to customers who purchase from me and you collectors who subscribe to my Price Guide and email me with questions and comments. I love to talk nodders with you guys!
JEERS to outsiders who contact me under false pretenses to get an idea about prices of dolls they have, pick my brain (doesn't take long) , get information from me, and then turn around and put them on EBay without so much as a Thank You. (Happens alot, I'm a bit of a sucker..)
CHEERS to all of you who have sent me pix of dolls that I didn't have in my price guide. My goal is to have a picture of every doll made, I have over 1,000 and its growing all the time.
JEERS to me for not thanking you publically.
CHEERS to EBAY sellers who describe items properly, show good pix, and stand by their product.
JEERS to EBAY sellers who describe items in general terms, (excellent, great, perfect, etc.), provide deceiving pix, and sell "as is" so that you're stuck after you buy a lemon.
Cheers to Ebay sellers who have the opportunity to offer interesting nodders, describe them to the best of their ability and let the chips fall where they may.
JEERS to those same sellers who end auctions early if they get an outside offer or aren't getting the bids they expected.
CHEERS to you knowledgeable collectors who spot a misidentified item on EBAY and contact the seller to let them know so a fellow collector doesn't get ripped off.
JEERS to those sellers who hear from collectors but do nothing to change their listing.
CHEERS to collectors who are in it for the enjoyment
JEERS to those of you in it to make a quick buck
CHEERS to Dealers who give back to the hobby.
JEERS to those of you in it to make a quick buck
JEERS TO ME For not telling you how much I appreciate your business!!!
HAPPY NEW YEAR !!!
John Brey

Nodder News April 2006
Hi all. Things are going quite well in the Bobbing Head world. Lots of activity and more and more new collectors coming aboard.
April Auction
I really enjoyed my just completed April auction. There was a lot of variety, many rarer high valued items as well as some more available pieces in various conditions. Many final values were higher than expected while at the same time some "bargains" were had, in my mind that's a perfect auction...
Bidding was very solid and I had a bunch of new sign ups. Best part of the auction, for me, was that of the 75+ lots that sold there were 52 different winners! While it means a bit more packing and trips to the PO, it also means more collectors were going after things and there are more happy winning bidders.
Last thought on the auction.. Thank you all for your quick responses and payments (as always). The auction ended a week ago and I've already received money and shipped more than 80% of the dolls that sold. As a result I'm able to start sending out consignments checks, so everyone is happy. I'm not sure how other auction places do, but I'll bet they can't begin to compare. As I've said many times in the past, Bobbing Head Collectors are the best and most honest people in the world. Thanks.
Price Guide
While the auction was going on, I was able to work on a comprehensive update of my price guide. I added dozens of dolls, many new pix and updated every doll price on the site to try to keep current. Any one who follows Bobbing Head sales knows that prices fluctuate greatly, but if you use it as a "guide" it should be very beneficial to you. I have close to 1,000 pix on the site, that alone should be worth the $15 per year admission price. I can guarantee you that you'll recoup the $15 many times over if you're an active collector.
I've been pleased with the reaction to the site, getting new signups regularly. Feedback is appreciated and please, if you have any pix of dolls that aren't pictured, feel free to email them to me.
EBay, other auctions, etc.
Hard to figure out what's going on..

Many dolls go for twice what they should, others for less than half.. (I think some of the bidders should subscribe to my price guide just so they have a clue).....

I recently purchased 50 dolls from a major memorabilia auction (you've all heard of it), 12 of the 50 dolls had some restoration. THEY HAVE NO IDEA HOW TO GRADE OR AUTHENTICATE BOBBING HEAD DOLLS... (Except for the Robert Edwards Auction who called me in to authenticate things). They spend big bucks to make sure that their autographs are authentic and their valuable baseball cards are legit, but they don't give a damn that they are selling restored Bobbing Heads as mint... Shouldn't we be pissed off?

I'm firmly convinced that many of the 'unsavory" elements of the hobby are alive and well but have gone underground. They buy beat up dolls, have them professionally restored, and then send them to those nationally known auctions. People bid big bucks based on the auction houses reputation and won't know for years that they bought a restored doll. (Trust me, a professionally restored doll is very hard to spot). This way they remain anonymous but can still collect their ill gotten gains.

It's sometimes frustrating to sell a beautifully restored doll for $350 when I know I could get twice that if I was a bit less honest.. I was a collector for many years and I couldn't spot repairs, even those that were fairly obvious in retrospect. I'm assuming that most of you are the same way. Don't worry though, my goal has always been to keep the hobby pure. You know what? I sleep well at night...

Stay in Touch

Nodder News 2/16/06
Hi All, Things have picked up quite a bit since my end of year report. As slow as things were in November and December, that's how busy it's been since the first of the year. I think the sign of a "maturing" hobby is the ability to weather slow times and then bounce back, so this is very good news. Those of us who have been involved in the hobby for 20 years or more know that it has it's ups and downs, but also know that it's not a passing fancy like some other "fads" that have come and gone. I'll admit that I was a trifled worried in December, feeling that things were really slowing down, but recent activity has allayed any worries I had at the time. My February auction was very busy, sales on my site have been strong, I'm getting a ton of new subscribers to my price guide, and want-list requests are at an all time high! From doom and gloom to highly optimistic in 2 months, I sound like a stock market analyst..
Some sad news in the Bobbing Head community, Larry Reed, affectionately known as "The Bobbin Head Doctor" passed away recently at the age of 61. For those of you who never met Larry he was , first and foremost, a heck of a nice guy. I had the pleasure of meeting him a couple of times at shows and spoke to him on the phone several times and always found him to be a joy to speak with and a true gentleman. Larry was the unquestioned master in the area of doll repair, many of you who had cracked up dolls that Larry worked on know the magic that he could perform. Our thoughts and best wishes go out to his girlfriend Norma, his family and his many friends as I know he will be sorely missed. Following is an article on Larry from a few years ago, enjoy.
Rest in Peace Larry.
Bobbin' Doctor breathes new life into aging collectibles
By Brett Tomlinson



PHOTO: Brett Tomlinson

New player-specific bobbing head dolls

have bolstered the hobby, but vintage dolls like these are still valued by collectors.

Larry Reed still remembers that trip to the flea market more than 15 years ago when their eyes locked. He knew that smiling face had seen better days, and he was the man who could bring the good times back. On that fateful day, Reed bought his first bobbing head doll.
"Somebody had painted it with enamel paint," he remembered, describing the 8-inch-tall Cleveland Browns football player. "So I just started chipping it off with my fingernails."
He carefully filled in the fractured face with plaster and refreshed the original paint with a perfectly matched hue. And so began the career of the "Bobbin' Doctor."
Reed, 57, has been restoring the collectible ceramic and papier-mache dolls (also known as bobble heads or nodders) at his home in Etna Green, Ind., ever since, earning a reputation among collectors as a master of plaster.
"I try to tell people not to give my name out because I'm already swamped," said Reed, who once had "BOB-N-DR" license plates on his Corvette. "But you know how word of mouth is."
Reed is not the only person up to his ears in bobbing heads these days. With professional sports teams giving away customized player versions of the novelty dolls at games, a new crop of bobbing head collectors has been popping up across the country. The new dolls have brought a fresh face to a hobby that has attracted a handful of devoted collectors for more than four decades, but vintage dolls are still the most cherished artifacts on the market.
Bobbing head dolls, first manufactured in Japan in the 1950s and '60s, get their wiggle from their spring-mounted heads. They became valuable collectibles in the '80s and '90s, after many of the original dolls were thrown away, lost or broken.
But profit is as much a factor in the popularity of old bobbing head dolls as nostalgia. Tim Hunter, the author of the price guide "Bobbing Head Dolls, 1960-2000," said that the rarity of the original dolls from the '60s makes them more valuable than the new dolls.
Hunter started buying up dolls for $5 or $10 at baseball card shows more than 20 years ago and has seen the popularity of the dolls grow tremendously, even before the stadium giveaway boom. "They've gone from something people used to laugh about to a legit, respected collectible," Hunter said.
The bobbing head revival has strengthened the hobby, making it easier for younger fans to afford their own dolls. The new dolls, with slightly oversized caricature heads and pudgy, child-like bodies, are a hit with sports fans.
"The best word to describe them is 'cute,'" said Malcolm Alexander, president of Alexander Global Promotions, a Bellevue, Wash., company that helped start the bobbing head trend by making a Willie Mays doll for a 1999 San Francisco Giants game. To meet increasing demand, the Chinese factory that produces the hand-painted dolls for Alexander has grown from 150 employees to 4,500 in the past three years.
In 2001, Seattle saw signs of bobble-mania when Mariners fans camped outside the stadium to get in line for a free doll of their star outfielder, Ichiro Suzuki. The promotion has become a staple at professional sporting events, spreading from baseball to basketball, NASCAR and even Australian-rules football.
The newer bobbers have not made much of a splash in the collectibles market, though. Recently manufactured dolls on the online auction site eBay start at less than $10 and often remain on the block for days without a single bid.
Some fans of the new bobbing head dolls have started shopping for the more expensive vintage dolls to increase the value of their collections. Hunter said that novice buyers need to be careful. He complimented the craftsmanship of restoration specialists like Reed, but also said that reconditioned dolls can be problematic in the hands of an unscrupulous seller.
Still, Reed takes pride in turning the cracked, yellowed nodding heads into the bright, smiling faces that they were when they first left their Asian factories.
"It's delicate work, but I put them back exactly the way they were 40 years ago," Reed said. The vintage dolls, he said, will always be a cut above the newer generations. "Nobody has been able to duplicate the way they made them," Reed said. "They are unique."

BobbleBid Closing
2/09/06
Hi all. I'm sad to say that we are closing down BobbleBid, our weekly Bobbing Head auction site, effective today. The site will be active for some time so that those of you who have recently won auctions can complete your transactions. If you have any questions regarding recent purchases you can contact the seller you purchased it from.
As you may know, we introduced Bobble Bid last year as an honest and safe alternative to EBay for Bobbing Head Collectors. As many of you are aware, there are many problems when buying on EBay. Among them are sellers who don't guarantee their items, sellers who don't know what they are selling, as well as those who are downright dishonest. Since all sellers on Bobblebid agreed to a 100% satisfaction guaranteed return policy and were known as honest and reliable sellers we had hoped that we could eliminate the problems associated with EBay and provide a safe place for collectors to shop.
In many respects, BobbleBid was an unqualified success. We had more than 500 transactions processed without a single negative. Since all of our sellers and buyers were registered collectors I don't know of a single problem that we incurred. Collectors were the winners as they got what they paid for.
Sounds great, so why are we closing??? Despite the excellent transaction results, the fact is BobbleBid just never took off the way we had hoped. After a promising beginning and some early growth, bids and page views have leveled off and even declined a bit in the last few months. In addition, we had hoped collectors would embrace BB not only for bidding but also for listing dolls that they wanted to sell, providing a wider variety in our auctions as well as providing listing fees to BB so we could continue to grow.. Unfortunately that did not happen. Many collectors who were active bidders would turn to EBay if they had a few dolls to sell. This left the Dave, Lou and me with the job of listing enough dolls to have valid auctions every week. Also, to be honest, BB was not bringing in much revenue from listing fees, so continuing operations did not make much sense financially.
The good news is it's back to business as usual. I'll have many more dolls to list for sale on my site now that I don't have to worry about listing on BobbleBid. My bi monthly auctions will continue as is and should be bigger and better than ever. I can also concentrate more on writing informative items on my site and filling want lists for my customers. I may even be able to run a couple of mini auctions from time to time. Dave will continue to be a presence in the hobby, helping collectors fill their wantlists and Lou will continue to do his thing with sales and auctions.
So there you have it, we gave it a shot but it just didn't pan out the way we had hoped. Thanks to all of you who participated and tried to make it work. Please feel free to contact me at john@nodderexchange.com if you have any questions or feedback. Thanks, keep in touch.
John

Nodder News - Year End Report
It's been an interesting year in the Bobbing Head collector community. Those of you who have been involved for a long time, and have been paying attention, have probably been amazed by the number of dolls being offered for sale in various auctions and sales. Many collections have been offered up, which probably isn't surprising considering the prices that have been realized lately. It certainly appears that many long time collectors have decided to "cash in" and take their profits. More on that below.
Prices over the Spring and Summer were at record levels (bidders were paying more for large lots than I figured I could sell them for individually). I'm hoping that the high bidders were collectors who really wanted the dolls and not would-be dealers, because if someone was looking to turn a profit on those they could be in for a rude awakening. While I think the Bobbing Head market still has a long positive road to go, it looks like we are going to see a temporary "correction" for the time being. I would think it would be hard for any hobby to absorb that many items in so short a time.
I make it a habit of studying the market, checking out the various auction and sale outlets as well as EBay. If I had to summarize the market in 2005, I'd say it's similar to the month of March.. came in like a lion, went out like a lamb. For the first time in the last 5 years I've seen a defininite softness, overall prices have flagged a bit. For the first time it appears supply is outstripping demand. While the number of new collectors continues to grow, the sheer number of dolls being offered has more than offset that, at least temporarily. Really rare and/or super condition dolls are still in high demand and do well, but your average condition dolls have suffered greatly price wise. A year or so ago I could and did sell many Atlanta Braves Gold Bases in Near Mint condition for $150 or more. Now I have to scamble to get $100. I could give you many examples of this, suffice it to say that the more common dolls have come down in price...
While this may seem to be negative news, it actually should be a positive for those of you who are truly collecotrs as opposed to those who are in it to ake a quick buck. If you are looking to complete your Gold Base Football or White Base Baseball set you should be able to do it easier now than you could a year ago. Even with the slight downturn in prices, your collections to day are still worth substantially more than they were a couple of years ago. Judging by the new collectors that I hear from weekly, it appears that the hobby is still growing at a strong rate. So, while it might take some time to absorb all of the dolls that have shown up, I think the long term prognosis is still pretty good.
Here is a breakdown on some of my ventures and how things are going:
All Doll Auction - As you know, I run auctions every other month, February, April, June, August, October, and December. The vast majority of my dolls are consignments, dolls sent to me from other colleectors. Numbers have been very strong through October, the December auction was quite slow. Some of the reasons for that have been addressed above. I'll be anxious to see if things pick up in February. This may give an indication of whether this a temprorary lull or the beginning of a "correction". (Do I sound more like a Stock Analyst than a Bobbing Head dealer ? If so, I apologize and won't do it again.) In the meantime, if you have any dolls you want to sell, please contact me to discuss.
Dolls For Sale - As some of you may recall, I started the Nodder Exchange about 5 years ago as a site where you could buy Bobbing Heads. Obviously, things have evolved over the years, I took over Tim Hunter's auction business about 3 years ago so some of my focus has moved that way. Recently I have re-instituted my sales page, I know many of you are not fans of auctions and would rather just buy. These dolls are meant to be sold, I try to price them at what I think are fair prices so please check them out... I'm not looking to make a killing on these, just offering what I have at a fair price.
Nodder Price Guide - I'm really pleased with the number of signups in the last month or so. For those of you who follow these things, you may recall that in November I lowered the price.. I'll have to say that signups have exceded my expectations. I update regularly (although sometimes I forget to include the date on my site). I just added another 30 pictures and updated about 100 prices. I now have over 900 dolls (with pictures) listed!!! If it ain't worth $15, let me know..
BobbleBid - Ahhh..Bobblebid. Not sure what to make of this. For those of you in the loop, Bobblebid is a Vintage Bobbing head auction site offering weekly auctions from honest dealers, basically a place you can bid on Nodders and not have to worry about getting ripped off. We started this site early this year as an alternative to EBay, where, lets face it anything can happen. All of our sellers are honest and knowledgeable and agree to a 100% satisfaction guaranteed return policy.....
SOUNDS GOOD TO ME!! - Unfortunately, it doesn't seem to have taken off yet. We have a very dedicated core group of bidders but not enough to keep things growing. The MAIN PROBLEM THOUGH IS THE LACK OF SELLERS. My original idea was to create a "Bobbing Head Community", a place where you all could buy and sell without worrying about getting ripped off. (You know, the way EBay was before it lost control..). So far we have 3 or 4 sellers doing all the listings, everyone else who has something to sell sticks it on EBay. I'm not sure why, Ebay is more expensive and the prices sellers get there are quite a bit less than they get on BobbleBid. (I've done unofficial studies and know from experience that it's true). PLEASE GIVE IT A LOOK. We're kind of slow now for the Holidays but things should pick up after the 1st.
Repaired Dolls -
I haven't commented much on the subject of repaired and touched up dolls lately, mainly because doing so is very similar to banging my head against a brick wall over and over again.. It's not much fun and doesn't seem to do much good.
Before I get started, let me reiterate my stand on repaired dolls - I have no problem with a repaired, restored or touched up doll whatsoever, as long as the buyer or bidder knows what they are getting. The problem has always been, and still remains, that many of the Mint dolls that collectors are buying are actually dolls that have been restored.
I just got off the phone with a very honest memorabilia dealer who sold a mint doll to one of my regular customers. My customer had asked the seller to send the doll to me so I could check it out for him. I received the doll, it looked Gem Mint but I could tell right away that it had been completely restored. I can tell you that the person who sold the doll did not know the difference, nor would 95% of collectors. This one has a happy ending (sort of), the dealer is refunding my customers money, so the buyer is not getting burned. However the honest dealer, who bought this "Mint Doll" from a noted National Auction house is now saddled with a restored doll that he bought as mint. I'm sure he will be able to get some of his money back but he'll probably end up in the red on this one. And do you know why he'll lose money? Because he's honest.
One of the most frustrating things about being an honest dealer is seeing collectors spending top dollar on dolls in auctions where the dolls are not even described, just nice looking pictures. I mentioned above about the large auctions offered earlier this year by several of the large memorabilia dealers. I was amazed at some of them, there was a picture of 20 dolls, with barely a description, and the lots were going for record prices. I've looked these auctions over carefully, they have expert authenticaters for all sorts of collectibles.. game used equipment, autographs, cards, the list goes on. The only auction site that I've seen with a "Bobbing Head Expert" is the Robert Edwards Auction Site, (both Tim Hunter and I have done work for them) the rest of them do not. I realize Bobbing Heads are a small part of their business but I think they could at least try...
What's really amazing is that collectors will spend top dollar if they are offered no information, but when I or other upfront dealers accurately describe their items, we get penalized because they aren't "mint" like the one's in the Big Auction.
I know I've already belabored the point, but did you ever wonder why my All Doll Auctions as well as our Bobblebide Auctions have so many Repaired or Touched Up Dolls?? Could it be because those are the dolls we are going after, or is it because we are about the only one's who know what we are looking at and are upfront about it? I know that answer... Do you?
On that fairly negative Note.. Have a Merry Christmas and a very Happy New Year!!!

Nodder News- Fall 2005 Update
Prices Reduced !!
It's been almost a year since I went live with my Online Price Guide and the results have been very satisfying. Many of you have signed up, and judging by the feedback I have received, most have found it very helpful. Most of my long time customers have subscribed , however I've noticed that many of the newer collectors, as well as the more casual collectors have not been signing up in large numbers.
In order to get more people on board, I've decided to lower the price significantly. The new price for a 12 month subscription is now $15, which is less than half of the original cost. For those of you that have already signed up at the full price, you are now paid in full for life (mine, yours, or the price guide's).
I have prices and pictures for almost 900 dolls, including Football, Baseball, Basketball, Other Sports and Non sports. I'll be adding hockey this fall. My ultimate goal is to have pix of every doll that's out there. While prices fluctuate quite a bit in the hobby the guide will give you a pretty good idea of the relative pricing and rarity of a particular doll and show you what it's supposed to look like. If you use it regularly, I guarantee it will pay for itself many, many times over!!
Bobble Bid
The new Bobbing Head auction site www.BobbleBid.com is really taking off. Bidding and page views have increased steadily and more and more listings show up every week. If you haven't checked it out yet, here's the link
BobbleBid
The benefits to collectors are as follows:
All sellers are knowledgeable and have agreed to a 100% satisfaction guaranteed return policy.
Only Vintage Bobbing Heads are listed, you don't have to wad through 1,000's of new dolls to find what you want.
No phony bids, no early ending to auctions, everything is above board.
Bobblebid is looking for more sellers!! So far a handfulof us are doing all the listing. If you're honest and have some dolls to list, contact
info@bobblebid.com
to apply to be a seller.
I'll have more soon..
John Brey

2005 Mid Year Report
Well, it certainly has been an interesting year in the Bobbing Head World! Interest remains very high and I see many new collectors coming on board every week. This has helped offset the increase in supply and has allowed prices to remain at their current high levels and keep the hobby growing. The "Bobblehead Craze" that had been written about in numerous publications (ie Stadium Giveaways, etc) has cooled off quite a bit, but the vintage market has continued to grow, which is good news for all of you that own collections.
Many of you may have noticed two huge offerings a few months back from a couple of major memorabilia auction houses. Basically they were big collections offered for sale from a couple of serious long time collectors. With prices at high levels some selling off is bound to happen, however I was quite impressed with how these collections were absorbed by the hobby without causing a ripple. Even though the collections were offered in large lots the prices realized were very strong with very few exceptions.
My own auctions, held every two months, have continued to be very successful. Prices for high quality dolls and for the tougher to find pieces are very strong. I've personally seen at least a dozen or more dolls that I had never seen before and I've been studying the hobby closely for quite awhile. I've been including many "new finds" in my online price guide and will be adding many more over the next few weeks.
Here's a recap of where things stand based on my observations:
Baseball - Still the most collected of all dolls. Prices remain strong for quality dolls in the 3 major sets (White, Green and Gold Bases). Many new collectors start here so I wouldn't expect any drop off in interest anytime soon. Prices have stabilized a bit for lesser condition dolls after dropping quite a bit last year. Many of the more common dolls in "excellent" or "ex+" condition can be picked up in the $80-$100 range compared to maybe $120 or so a few years ago. By contrast, common dolls in top condition have moved in the opposite direction.
The other Baseball sets (Color Base and Wedge Base) often fluctuate, prices can depend on who is looking for what at a given time. Fewer collectors and fewer buying opportunities create a much more volatile market.
"Oddball" dolls remain strong, as do the Superstar dolls. The market for Black dolls has picked up too, many collectors are looking for them and there are just too few to meet demand.
Based on recent activity, the Taiwan dolls from 1983 may finally be making an upward move. I've anticipated this for years (they're pretty hard to find and they look super) but so far it hasn't really happened.
Football - After many years of somewhat "depressed" prices, the football market has really taken off in the last couple of years. Many never before seen dolls have popped up and there is such a wide variety of football dolls to choose from that everyone can find something they really like. While it's hard to generalize, I'd say the biggest movers are the Black dolls, Toes Up, AFL dolls, and of course the Promos if you can ever find one. Even the 1968 Gold Base set, which languished for years has become a tough ticket for dolls in top condition.
Non Sports - Advertising and political dolls in quality condition have really exploded in the last year or so.The other categories (cartoon characters, non fictional, etc) remain about the same. Many hobby veterans will tell you that you can tell the direction of the hobby by how the non-sports dolls go, and if this is true then things are looking pretty good.
Hockey - Still very popular despite the NHL strike, my biggest problem is always finding these dolls. Prices are strong across the board, the only exception being the more common dolls of the mini set.
Basketball - Prices are still undervalued based on scarcity, probably because there are no full sets to collect. Lil Dribblers have been doing well.
Other happenings in the hobby:
The National Sports Collectors Convention - Being held in Chicago this year 7/28-7/31. If you're nearby you may want to check it out. They'll be Bobbing Heads there and if you enjoy seeing all types of memorabilia it's a lot of fun. I've had a table at the last two, but I decided against it this year. (I absolutely hate manning a booth for 5 days, not to mention the packing and unpacking). I will be attending the show however and would love to meet up to say hello to anyone that is attending. I'll post my cell phone # on the site later on, please give me a call if you're out there. If anyone has any consignments I'd be glad to pick them up there to save you postage.
BobbleBid - as most of you are aware, www.Bobblebid.com is a new auction website for Vintage Bobbing Heads only. It was developed as a safe alternative to EBay for collectors who need a weekly Bobbing Head fix. (Read my last update below for more info). So far it appears to be going well and continues to grow. I've been listing things weekly (both auction and sale items) as have several other honest and dependable dealers. BobbleBid is looking to expand and needs sellers. If you're honest and agree to the rules that protect collectors you ought to consider giving it a try. The aim is to have a safe, dependable place for collectors to go on a regular basis without having to worry about getting ripped off. We think that would be a great thing for the hobby.
Price Guide - I'm in the process of a major update of the online price guide, including revised prices and trends ( +/-) since the first of the year. Any comments or price feedback would be helpful. Stay tuned for this in the next week or so.
That's it for now, feedback is appreciated.
John

Spring 2005 Nodder News
I'm very excited about the new site
www.BobbleBid.com
. I have gotten together with several dealers and collectors to offer a sight that provides honest and safe continual bobbing head auctions without many of the risks associated with certain other sights that do that. (starts with an E). Among the problems we saw with that "other sight" are the following:

Sellers who don't know what they are selling so their descriptions are inaccurate, incomplete or misleading.

Sellers who sell items "as is", so if you get burned you have no recourse.

Unscrupulous sellers who make a living at the expense of unsuspecting collectors by repairing and then reselling dolls without full disclosure.

Shill bidding

Auctions that end early as the result of a "side deal"

It's very hard to search the site for Bobbing Heads, there are too many categories listed and you end up having to wade through a bunch of worthless junk to finally get to what you're looking for.
Here are the advantages of BobbleBid as we see them:

All sellers are preapproved and have knowledge of the Bobbing Head hobby.

All sellers have agreed to provide informative descriptions and pictures, rather than trying to put something over on you.

All sellers have agreed to a 100% satisfaction guaranteed return policy. You can bid with confidence knowing you won't get stuck.

No side deals, no early ending to auctions.

At this point Bobblebid is small enough to effectively police their auctions, unlike others who have 1,000,000's of items for sale.
I think you'll find it to be a safe an honest place and should be a real plus for the hobby as it continues to grow. The good news is I've arranged with BobbleBid to automatically register all of my customers on the BobbleBid site. In other words your all set to bid, just log in using the same ID and password you use for my auctions.
If you are interested in selling on BobbleBid, just go to the website and send an email to sales@bobblebid.com
Also, please note that this will not have any effect on my own Auctions or my website. Things will continue as always with auctions every two months and dolls for sale. This will just be another avenue for me to use, just like I had used EBay in the past.

2004 Year End Nodder News Report
Well, its certainly been an interesting year!! I don't want this report to come across as "too rosey' but I'm afraid it probably will. Bottom line, from my perspective, is that the hobby is doing great. Prices on the whole are up, many new collectors are joining the fray, and interest is at an all time high. I don't follow the "new doll" market very closely, but I can tell you that the "Bobblehead Mania" that has surfaced over the last few years has really helped the Vintage Doll market grow. I can't tell you how many new collectors I've had contact me this past year once they discovered the old stuff. They start off buying a few Nomar dolls and end up going after the 40 year old Red Sox Green Bases.
As most of us will agree, vintage Bobbing Heads are the neatest collectible there is. They're cute and colorful and beat the hell out of any other display items you'll find anywhere. Add the fact that they were made as junk some 40 years ago and you have the perfect collectible: rare, colorful and challenging. (Just set a Willie Mays Nodder next to a Mays autographed baseball and see which one gets more interest from your friends.)
As mentioned earlier, prices as a whole have been up. I follow the market very closely and prices for rare pieces, as well as really high quality items are very strong. Average condition examples of the more available dolls are a bit stagnant, but even those have shown improvement since the beginning of the year. With the growth of Ebay some dolls don't seem quite as scarce as they used to, however you need to realize that there is an ever increasing number of collectors too. There may be twice as many Clementes out there than was previously thought years ago, but I can guarantee you there are more than double the amount of collectors.
I've been very pleased with the response to the Nodder Price Guide. Many of you have signed up and from the feedback I have been receiving it appears that it has been very helpful and informative. I now have over 800 pictures on it and more are being added weekly. I'll have to admit that I use it all the time and I'm the one that put it together !! (With the help of many dealers and collectors I need to add). If you're serious about the hobby you should check it out again, I'm confident that it will get you back your $36 many times over. All feedback is appreciated, both positive and negative (but be nice).
I'll be in touch again real soon with more. Thanks.
John Brey

Wow!
The auction results were great, not a lot of " high profile" items but overall things went very well.
The best thing is, I started advertising a bit and we added a slew of new customers. I can't tell you how pleased this makes me, new blood is the key to the hobby. Without the new one's coming in the Hobby would be in trouble... I think I sold as many dolls "after" the auction as I did during it.. This is the most optimistic I've felt towards the hobby in...... a long time. (Can't place a date on it)
Most dolls went well in the auction. The newer SAM dolls struggled a bit. Could be a combination of things, let me know your thoughts. Here are the choices:

Minimums were overpriced

You're not sure what thay should go for...

You only collect the old stuff
I don't have a polling system set up, but your responses would help.
My thoughts are no one is ready to commit if they aren't sure what they should go for.
My Price Guide Website is ready to roll next week...!!! After months of threatening... Cost is $3 or $4 per month depending on how you want to pay. Anyone who is remotely involved should be able to benefit, from the pictures alone, never mind the prices and descriptions. I've spent many hours working on it. Stay tuned !!!!

July 2004
Hi all, as many of you know I had a booth at the National Sports Convention in Cleveland last week. It was only my 2nd National (Atlantic City last year), so I'm no expert, but here are my thoughts in general as well as thoughts on the Bobbing Head hobby in particular.

Overall the show went pretty well, much better attended and run than last year's. While attendence seemed to be pretty good, there was a lot of rumbling among the dealers I spoke with that sales were a bit slow, particularly compared to the National held in Cleveland 3 or 4 years ago. Most dealers attributed that to the proliferation of online auctions and websites making it less necessary for a collector to attend a show since they can "see" a whole lot of neat collectibles on their computer.

On a personal level, things went pretty well. I took my College age son with me, and while we are novices when it comes to selling at a show we were able to sell quite a few dolls. More importantly, I got to meet many of you in person, its nice to put a name to an email (if you will). I also signed up dozens of new collectors, many of whom are fairly new to the Hobby. That's always a good sign and shows me that the hobby is still growing. Prices seemed to remain robust for the nicer and rarer items, down for the more common, lesser condition doll. There were quite a few dolls available, a big change over a few years ago.

It was surprising to me how little some of these newer collectors knew about the dolls they were buying. It really reinforced the feeling that I've always had, we need more educational avenues available for collectors. I plan on adding more info to my site to help collectors figure out what they are buying, educated consumers are the backbone of the hobby.

Speaking of which, I WILL have my online Price Guide available in August. (I promise, I promise, I promise). It may cost a few bucks a month, but it will be the most informative source ever made for collectors. I already have thousands of pix and descriptions on almost every doll made and I won't stop updating until I get them all. As soon a I get all the the details worked out we'll go live. Stay tuned...

June 2004
Hi All, lots going on in the Bobbing Head world right now. First off, many thanks to all that bid on my June auction. Overall it went very well with some very good prices realized as well as some relative bargains for those who played their cards right. Hopefully you all came away with something you wanted. For those who got shut out, check out my dolls for sale list, it changes often and there are some nice dolls there at reasonable prices.
I've checked out several auctions recently, as well as following EBay very closely. Prices are strange right now and have been for several months. Hard to find, nice condition pieces continue to go for record prices while more common and lesser condition dolls are struggling a bit. Curiously, some traditionally hard to find dolls (Chicago Cubs Green Base and Boston Bruins Square Base to name two) have all of the sudden become "hard sells". Two years ago (or six months ago) I could and did easily get over $500 for either without batting an eyelash. I know I saw a beautiful Cubbie Green go for well over $800 ayear or so ago. I guess since a few have popped up for sale recently some collectors must feel they are pretty available and prices have dropped to the $375- $425 level. For those who bought them at those prices, congrats, because history tells me they are still pretty hard to find.
On an opposite note, dolls that used to be as common as dirt, ie A's, Expos, Angels and Brewers Gold Bases, to name a few, are actually becoming pretty tough to find and their prices are reflecting that. Possibly because their prices dropped so low and newer collectors scarfed them up so now there are none out there for the newest wave of collectors. These things usually go in cycles so it will be interesting to see what develops over the next 6 months.
Speaking of prices, I am finishing up my online price guide, it has been a massive undertaking and has taken a bit longer than I had hoped. I am consulting with my web designer to finalize things and as soon as all of the bugs are worked out I'll have an announcement. The site will have prices for all of the major sets as well as oddball dolls. Each doll will not only have prices but also a picture and a brief description. I think you'll find it to be an invaluable tool, both for prices as well as information. Please bear with me while I get it finished up.
Also, I will have a table at the National Convention in Cleveland. I had not planned on going because I thought my partner (my 20 year old son) would be unavailable, however his plans changed and we will be there. I plan on taking 100's of dolls to sell but mainly am looking forward to meeting all of you collectors. Please let me know if you're planning on going, it's a fun time and you should try to if you can. If anybody has anything they want to sell there, let me know, I'll gladly take consignments. MY BOOTH # IS 870. I'll post a map later on so you know how to find me.
Lastly, how could I leave without an EBay note. I've put a couple up for sale this week, check them out. Also, here are two pix of dolls being sold on EBay right now: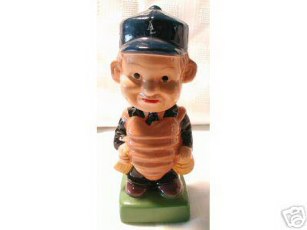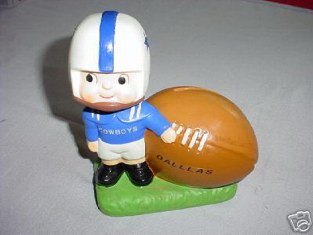 Please note, the doll on top is not the valuable 1960's Umpire that goes for big bucks, its a recent vintage AL doll that should go in the $30 or so range. Also, the bank is a generic bank that a very dishonest dealer has added Cowboy stickers to (Not the first time, and certainly not the last). Beware !!

April 2004
Wow, a very busy month. In addition to the 100 dolls I had in the April auction, I also was busy working on the Online Price Guide as well as helping Tim Hunter introduce his new Bobbing Head Grading Service (BACS). Not to mention trying to keep the site up to date. It's been hectic but a lot of fun. Here's an update of where things stand:
Price Guide
The online price guide is coming along well. I've had help from numerous collectors and dealers, a few of whom have gone well beyond the call of duty in helping put this together. I really appreciate that and they will be rewarded in terms of publicity and free advertising once I am up and running. Luckily, they are all all "good guys", so I have no problem giving them the credit they deserve.
The guide has proved very challenging, prices are all over the place so sometimes it's hard to make sense of things. Also, I'm planning on making this the premiere reference tool for collectors, so its a bit more involved than just saying how much something should cost. I'll be working on it heavily in the next couple of weeks, hopefully I'll have it ready for you by June 1. I'll keep you posted.
April All Doll Auction
Results across the board were strong. The wedge bases (which are rarely seen) and the Lil' Dribblers did particularly well. The College dolls remained strong, they are the one group of dolls (moreso than any other) whose prices are determined on who needs what in their collection. Price and condition are not always the main thing, if someone needs an Oklahoma doll and one is available he'll go for it. Kind of reminds me of the old days of collecting...
There were some very high prices throughout, however there were also several "bargains" which made for a good auction. I really enjoyed this past auction because there was such a wide vaiety of dolls to choose from. Prices are very unpredictable nowadays so it always hard to tell what something will go for. I'll have more on these pricing trends and many examples in my Price guide next month.
Website
I've been trying to stay current on the website and continually offer dolls for sale for those that don't like auctions. Sales are funny, I'll sell 10 or 12 dolls in a week, then go a week without selling anything... I try to keep prices reasonable and fair for those of you that would rather buy than bid.
Also, now that I have more time to spend on this business (as opposed to the Insurance business, which sucks), I am officially accepting "want lists".. However, before you shoot me an email with what you're looking for, keep this in mind:
I'll need to know what you are looking for, what condition you're looking for and approximately how much you are willing to pay. I won't hold you to it and it won't be binding, but there is nothing more frustrating than searching out something for somone, finding it and then having the customer say "oh, I don't want to spend that much". What I'm getting at is, don't tell me you're looking for a Black Face Oriole in nice condition but neglect to tell me that you don't want to spend more than $500. If you're looking to find a "steal", you're going to have to do that yourself. If you want me to do the work, I'll try my best and offer it to you at a fair price.
Bottom line is, I'll help you out with your lists, but I need to make a few bucks to stay in business too. Most of you that have dealt with me know I'm pretty fair. (At least I hope you think that). I'm working on several lists right now and so far the results are very good for all concerned. Let me know if I can help.
I'll be in touch soon. John

March 2004
Hope everyone is enjoying "March Madness", I always have a blast at this time of year. I have UConn going all the way, beating St Joes in the final. (I know, I know, I have an Eastern bias). My Spiders (my son's school Richmond) gave it a run but fell short, you Packer fans from Wisconsin probably enjoyed that.....
The April auction is shaping up great, biggest challenge is keeping it under control and not having too much to throw at you. I picked up an almost full set of 1970 Wedge Base dolls, some of the rarest dolls out there, Very strange set that's difficult to find. Same collector had a full line of LIL Dribblers in boxes, both Black and White faces, another set that doesn't come around often.
Lots of non sports too, including some very rare items (DickTracy, Bob's Big Boy, etc) along with a nice assortment of Baseball and Football. Hopefully something for everyone.
You may have noticed, I've been putting stuff on Ebay lately. I actually hate EBay, but its good advertising for the site and I do have alot of extras lying around. The idea behind EBay is great and it does have its good points, however I absolutely hate the way it works. Sellers think nothing of putting something up for auction and then pulling it off if the bidding is not going well or they get an outside offer. To me, that destroys the idea of an auction and there doesn't seem to be any deterrent to doing that. There's so many games being played there... (Anybody see the Giant Weirdo that was on last week, disappeared like a puff of smoke. Not sure if it was original or not, but would have liked to have had the opportunity to bid on it and find out ) By the way, I would never end an auction early for any reason other than a foulup in the listing, which I'm sure I would catch very quickly.
Also, why would any collector bid good money on an item from someone they don't know, particularly when the seller makes it clear that items are sold as is and all sales are final?? That's just asking to get ripped off. Stick with people you know. Keep in mind, anything I sell comes with a 100% satisfaction guaranteed policy, you wont't get that often on EBay.
The online price guide is in the works. I've been spending a great deal of time on it and have had dozens of collectors contribute prices, many well beyond what I had hoped for. Thanks to you who have helped, hopefully it will be worth your while (besides doing the hobby a favor). I hope to have the price guide available in the next month or so, I plan on making it the most informative, comprehensive collecting tool ever. 1,000's of prices and pictures, lots of helpful collecting hints too. Stay tuned......
Thanks, John

2/21/04
Price Guide is Coming..
I've gotten lots of prices, the more we get the more "real" the guide will be. I don't care if you've bought 100 or 1 dolls lately, let me know what you bought, how much you spent, and the condition. I'll need pix later, but for right now your prices will help.
In the meantime, good luck in the auction, lots of items that don't come along often....
2/12/04
Hi All,
I just sent a mass email to all my registered bidders (if you haven't registered yet you should). I am going to publish an online price guide, hopefully within the next couple of months. I would love to do a book, but that takes time and we are desparately in need of something sooner rather than later. We haven't had anything legit since Tim Hunter's book which is still a great reference piece but is now outdated as far as prices..
I haven't finalized all of the details, however I have been working very hard at compiling the prices. Here's what I see:

An online price guide covering every set made with prices based on actual sales. I've already contacted some of your other favorite (honest) dealers who are willing to help.

Pictures of every doll ever made. (This may take awhile but with your help we'll get there)

Complete history and facts about each set.

Regular updates about recent sales and happenings (I no longer work 40 hours a week at my regular job so I have more time to spend doing what I love)

An easily printed "prices only" section so you can have it with you at all times.

Access to a grading service from Tim Hunter so you know you are getting what you pay for.
I'll probably charge an annual subsciption fee to pay for my costs, however it'll probably be about what they charge for 1 month's subscription to an adult website. (Or so I hear....)
In the meantime. I need your prices.. Bought or sold in the last year with grades NrMt/Mt, NrMt, or Ex. Email me and I will put them in my database. These aren't MY PRICES, they are "THE" PRICES that they sell for!!!
Thanks,
John

December 2003
Auction Notes:
If you want to keep the auction in order, click on "sort by title" when you go to the auction page.
Lot # 2, Dallas Cowboys Wood Base, the pants aren't near as dark as they look in the pix. A bit off, but not bad.
I get real upset when my pix don't match the doll's quality. Some day I'll have a great studio...
The 1965 Gold Base dolls are as nice as I've ever seen.
Please Note :
(If you are puttting in a max bid,
Also, at the risk of getting too complicated and confusing myself, here is a bit of strategy regarding bids and how the system works. As you know, the current bid has to be upped by 10%. However keep in mind that the 10% raise applies to the current high bid, not a hidden max bid. In other words, if the minimum bid on an item is $100 and you put in a max bid of $109, you will be beaten out if someone bids $110. The $110 bid is 10% more than the current bid of $100, so that bidder would be high because the $110 is higher than your max bid of $109. (Even though its not 10% more than your max bid). I'm getting a headache, but here goes... So, if you want to use strategy, you should put in a $110 max bid to start. The high bid will show up as $100, if someone else bids $110, you will still be high and that person would then have to bid $121 to be the high bidder. If you're not clear on this, let me know and I'll do my best to further confuse you.
I got a bit sloppy last time, too many dolls in too short a time. I got several back, which is no fun for anyone. You'll notice longer, more detailed descriptions, hopefully it won't happen again.
Any questions, on any dolls, please let me know.

November 11 2003
Hi All,
I've been trying my best to add dolls for sale since the last auction. Its been working pretty well, I've sold about a dozen or so in the last week and a half which is encouraging. I know many of you prefer buying rather than bidding so as long as I can replenish my stock quickly enough I'll try to keep updating. The key is consignments, if you have stuff to sell look me up, rather than going the Ebay route. I charge a consignment fee but after three years of honest trading I have a very loyal customer base so you probably will end up with more here, and I do all the work and put up with any hassles. Bottom line is I Need Consignments
All of you who are registered to bid or buy received my email last week. I was very pleased with the positive response I got back, over 70 emails of support. Its a great hobby but we need to clean it up. Its so easy to make a quick (dishonest) buck that unfortunately we have attracted a very undesirable element. Its so easy to buy something thats beat up, send it to an expert repair artist and resell it for 20 times more than you paid for it. It happens everyday. I've said it before, and I'll say it again:
I don't know how these people sleep at night. God help me if I'm ever that desperate for money...
Last word and then we'll move on to more positive things:
Beware of people emailing you out of the blue "selling dolls for a friend". The dolls are always high end items and are priced pretty good. Question to ask yourself is this; why is this person selling this beautiful doll for that relatively low price when he could get much more by putting it in the "All Doll Auction" or one of the other legit Bobbing head auctions available???? You can probably answer that question yourself.
Positive Things
I really want to improve the "editorial content" of the site. In other words, I don't have the time to write informative and thought provoking articles. Here's your chance, send me a letter or article and I'll put it on the site..... Positive, negative, whatever you have to say I'll print it. You can sign it, or if you don't want your name used just sign it name and address withheld. ... lets spice things up a bit. Go Jets

Hi all. As those of you that were involved know, the October auction went very well. I have to admit, I'll miss the 140+ dolls that I've had here for the last month or so, some real beauties! Good news is they will be much appreciated in their new homes.
Signed up another 30+ new customers during October which I thought was amazing. I did have two winners question me regarding the buyers premium, honest mistake and it all worked out OK, but I urge everyone to read the rules so they know what's going on.
Prices overall for the auction were good, some major bids on the real tough to find stuff. Some of you got some very good values, which can always be expected with an auction this size.
For those of you who are interested, I am going to continue to offer dolls for sale. Its sometimes tough to fill out 6 auctions per year as well as offer dolls for sale, but I'm going to try to do both. If you have any dolls you want to sell, look me up. The more I have available, the better for everyone and I can almost guarantee you more $$$ than you'll get elsewhere.
Listing and bidding on EBay seems to still be light. Prices for most stuff is down, but I contribute that more to overall distrust than to a lowering of prices. There are a couple of very good dealers who still use EBay, but there are still so many ripoff artists that its hard to recommend. I spotted no less than 11 phony dolls in the last 3 weeks alone. Bottom line, if you EBay you might get some deals, but prepare to be disappointed. (screwed?)
I'll have more shortly...... Stay in touch

October 2003
I'm very excited about the current auction. A long time North Carolina Collector has decided to sell off and he's trusted his long time collection to us, which is very exciting and flattering. While I'm trying to get the collector the most for their money, I do have a couple of "tips" for those who are bidding:

Maximum Bids - All Max bids are hidden. This is the best way to go, however keep in mind that a max bid is only effective if its 10% above the current bid.... In other words, if you are bidding on a lot with a MB of $!20. a $130 bid is not going to help. The current bid would show as $120. the next bid would be + 10% or $132. If I came along and bid $132 I'd be the high bidder at $132 (higher than your $130). Therefore, if you want to play the odds you'll need to outbid the current bid that's online by 10%

Bidding generally - It seems the only problems I've had with inability to bid is when people try to "quickbid" from the main auction list. Best way to go is to click the item descriprtion. This will bring you to the item's main page, including many pix and a detailed description. If you place your bid and Password then you should be OK.

Please email me if you have any questions regarding an item. Many times I'll post a pic of an absolute Gem Mint doll but when I see the pic online it looks like it has a chip or flaw. If you're hesitant about bidding on something because the pix and description don't match, let me know.

I've only had one doll refused in the 5 auctions I've run . Bid with confidence, what you see is what you get. If you're not happy you get a full refund. I want you to happy, if you're not, neither am I.

September 2003
Hi all. As I mentioned on my homepage, I just added another half a dozen dolls for sale. I'm in an interesting quandary right now... Auction registration, bidding, and participation is at an all time high. I couldn't be more pleased with the results so far, both in prices realized and overall interest generated. In every new auction I have new bidders signing up and the total number of bids increases dramatically.
Interestingly, at the same time, my regular "sales" in non-auction times has reduced. I realize that for the period of time that I was making the transition the pickings were somewhat slim, however I have been making a concerted effort to offer quality dolls for sale at reasonable prices over the last month or so. Even so, sales are down about 50%, and I'm not sure why. I always assumed there were alot of collectors out there who would rather buy than bid which was the reason for the success of my site in the past. Now that I'm doing the auctions that seems to have changed, and I'm not sure why. What's really strange is that about 75% of the dolls that I have for sale go for higher prices (sometimes much higher) if I take them off the sale list and put them in my auction.
Bottom line is, I'm trying to figure out whether I should continue to "sell" dolls all the time or just become an auction place. Gosh knows, with an auction every two months I'm busy enough and I'll have that many more dolls to include in the auctions. On the other hand, I want to be able to offer you something different as you all know there's no one around that offers dolls for sale reasonably on a regular basis. I'd be interested in your take on this, please email me with your thoughts.

Happy Labor Day!
Prices remain strong for NrMt and better dolls as well as for those harder to find dolls. Dolls in lesser condition are going a bit cheaply today as compared to a year or so ago. This is understandable, as the recent influx of new collectors has slowed somewhat, at least that's what my emails tell me. It seems that first time collectors start out with a bunch of less expensive dolls to get their collection started and then move up in quality once they have some on their shelf.
I'm trying to continue to offer you both dolls for sale as well as holding at least an auction every other month. In order to continue doing that I need more consignments from my customers. My consignment fees are quite low compared to many other collectibles dealers and I can generally get higher prices here than other places since my customers know they will get a fair deal. I know most of my consignors are normally very, very pleased. If you have any dolls that you are looking to move, give me a shot next time. Chances are good that you'll end up with more $$$ here than you would by selling on EBay.
Speaking of EBay, the listings have really dried up recently. I'm not sure if its just a summer thing or what, but I can't remember ever seeing so few vintage Bobbing Heads there. I know I have many collectors who have had some bad experiences there and won't go back. If you do go there, please be very careful. Look things over closely and read the descriptions carefully. I recently saw someone selling 5 dolls in different auctions with the exact same description for each one, something along the lines of "nice condition with very minor wear for a 40 year old Bobbing Head". Not to mention the fact that he had one fuzzy picture for each and all of them were being sold "as is" with no returns. Sounds crazy, but people were actually bidding on them. I'm sure there will be some disappointed winners but that's the risk you take if you don't know what you're bidding on....
I added a few more nice dolls today, hope to continue adding more. Please check them out. I don't quite understand it, but some people seem to have an adversion to buying as compared to bidding. I don't normally like to put dolls that I have had for sale in the auction, but when I have it seems that about 75% of the time I get more in the auction (often substantially more) than I was selling them for. I try to price them fairly, so check them out..

August 2003/ Auction Special
Auction ends Monday, 8/18 at 9:00. Bidding was brisk the first 4 days with over 100 bids received. It slowed somewhat over the weekend which is normal and is slowly picking up steam again. We have had alot of new bidders sign up since the last one, so here are a few hints for them (and for the returning regulars too):

Remember there is a 14% Buyers Premium added to the winning bid. I realize some people don't like that, however it really doesn't effect you as a bidder since it applies to everyone.

Max bids are accepted (and encouraged), whether you bid online or by phone or email. I'd have to say that the majority of people who win what they are bidding on are those who have put in max bids. These max bids are secret and are only used if someone outbids you, so there is no downside and you don't have to worry about remembering to check in on Monday night.

Reminder, the main page of the auction that lists all of the dolls and the time remaining for each is only updated every 20 minutes.(even if you click reload). If you are bidding on a particular doll late in the auction and want to know its up to date status you will need to click on the title for that doll. Doing that will give you the real time bid and amount of time left.

Also, at the risk of getting too complicated and confusing myself, here is a bit of strategy regarding bids and how the system works. As you know, the current bid has to be upped by 10%. However keep in mind that the 10% raise applies to the current high bid, not a hidden max bid. In other words, if the minimum bid on an item is $100 and you put in a max bid of $109, you will be beaten out if someone bids $110. The $110 bid is 10% more than the current bid of $100, so that bidder would be high because the $110 is higher than your max bid of $109. (Even though its not 10% more than your max bid). I'm getting a headache, but here goes... So, if you want to use strategy, you should put in a $110 max bid to start. The high bid will show up as $100, if someone else bids $110, you will still be high and that person would then have to bid $121 to be the high bidder. If you're not clear on this, let me know and I'll do my best to further confuse you.

Finally, I've gotten several emails from bidders asking to give them details on the condition of particular dolls. I finally figured out that some of my bidders did not realize that if you click on the title of each auction you get a full description along with 4 or 5 pix. If you still want clarification after viewing that I'm always here to answer your questions. Good Luck and Thanks. John

July 2003
Hi all. Just got back last night from the National convention in Atlantic City. I was there from Wednesday through Sunday and it was quite an interesting experience. I'd never done a major show before so I didn't really know what to expect. Here's a brief recap, would love to get feedback from anyone else who was there:
Good things about the National:
I met dozens of customers, all as nice as I thought they'd be based on our dealings before. I've said it before and I'll say it again, Bobbing Head collectors are some of the nicest people you will ever want to meet!
I sold about 28 dolls during the show, there was a great deal of interest in bobbing heads ,It seems that the hobby is still going strong.
There were quite a few dolls for sale from a variety of dealers. Some fairly priced, some outlandish, an occasional deal or two. I picked up about 18 new dolls, I'll be adding them for sale or auction real soon.
Signed up about 50 new collectors for my auction and spoke to many more than that. It still seems that there are a lot of new collectors joining the fold all the time, which is good for all of us.
Got to spend some quality time with my son, we had fun and drank some beer together.
Bad things about the National:
Every dealer I spoke to said it was the slowest National they had ever seen. I suspect most dealers like to complain but this was serious.
Being a late, 1st time participant, I can't complain, but the way the show was set up was a disgrace. Our section was set cut from the main section by a large partition, which kind of made it like we were in another room from the main show. We did allright, but I'll tell you there were some very pissed off people nearby.
Card shows are boring... I much prefer the way I do things now. I'll add more later.

June 2003
Auction went very well. Lots of high prices, some pretty good deals too, overall a good auction. Its very gratifying to see that collectors are sometimes willing to pay more when they can trust what they are buying. I've noticed more and more disclaimers on ebay auctions, things like"sold as is", "all sales final", etc. Seems like very few out there are willing to stand by what they sell. Buy a doll that's repaired, touched up, not as advertised? Too bad!!!!
I'll say one more time, you will never hear that here. I examine every doll that comes in, if I'm not sure I send it to Tim Hunter for a 2nd opinion. I'm sure I'll make a mistake or two, but its not for lack of effort. I guarantee you, I could make alot more money in the short term by fudging things, but in the long run I'd be the same as those other guys who rip people off and will be gone in a year or two. Tim Hunter has had loyal customers that have been dealing with him (and often only him) for 20 years, and that's what I'm trying to build too. For my good customers who also buy on ebay, feel free to email me about a seller. I've gotten so many negative emails about some sellers that I am fed up..... I'll do what I can to help. Sometimes it gets to be a joke, I'll watch some of these guys bid on one damaged doll after another, yet everything they auction is nrmt/mt with "no problems". Unfortunately, most collectors only realize they got ripped off when they go to sell it.
Enough negative stuff, lets talk positives!!! The hobby is still growing with many more collectors joining the ranks. The recent "Bobblehead Mania" caused by the new issues may be calming somewhat, but lots of those that were lured in by it have graduated to the older stuff. That's good news for collectors, it keeps prices up. I haven't seen much of a slowdown at all, as a matter of fact, nice "NrMt/Mt" or Mint examples continue to rise in all lines. The VG/Ex dolls are somewhat stagnant, but with all the new collectors coming in that may change. I had another 30+ collectors sign up for my auction since June 1st..
I've been getting alot of emails asking questions, which I love. Only thing I could suggest, though, is for new collectors to check out the "History Sections" of the website. Alot of the "how can I tell the difference between...." questions can be answered there. If that doesn't help, please feel free to ask, if I don't know the answer I'll find someone who does.
Next auction is in August - Need Consignments
I'll be at the National in Atlantic City July 24-27th Buying and Selling. Please let me know if you wil be there. Thanks , please stay in touch.
John

Nodder News April 2003 Report
Thanks to all of you, the April All Doll Auction was a fabulous success. Prices were strong across the board (good for me, good for our consignors, and good for all of you collector's who own Bobbing Head dolls.) The best news is I had over 40 new collectors sign up online in the last month as well as a dozen new collectors who signed up by phone. Our hobby is growing and its gratifying to see that our upfront approach to collecting is starting to pay off. I think collectors are tired of getting ripped off and are looking for a place they can go to for honest descriptions and service. Our next auction is in June, if you have anything you want to sell, please let me know, I want to be able to keep offering fresh new material but need your help to do so. We do charge a consignment fee, but I can tell you chances are you'll get a whole lot more here then you will on EBay.
50,000 Hits
Also, lost in the excitement of the Auction, I just passed the 50,000 hit mark on our website. That may not mean alot to you, but personally its quite an acheivement. I've been in existance a bit over 2 years and it took about 10 months to hit 10,000. That means in the last 15 months we averaged over 3,000 visitors per month and I can tell you its growing every day. I think we have a chance to continue growing, but I need your help.... I can't always get enough dolls to continually offer dolls for sale and stock my bi monthly auctions. I get consignments, but not nearly enough. If you have dolls to sell, please let me know, I'm sure that we can work something out and you'll end up with alot more money then you would if you sold it yourself on Ebay or somewhere else. I have a list of consignors who would gladly vouch for that if you want proof.
Hope you all had a nice Easter, I'll be in touch in a few days.
John


February 2003
Hi all. I had a snow day on Friday and came across this that I had ordered from Tim Hunter back in 1988. This was his official price guide back in those days. Thought some of you would enjoy taking a look.
Things sure have changed...
Tim Hunter's Baseball Price Guide - 1988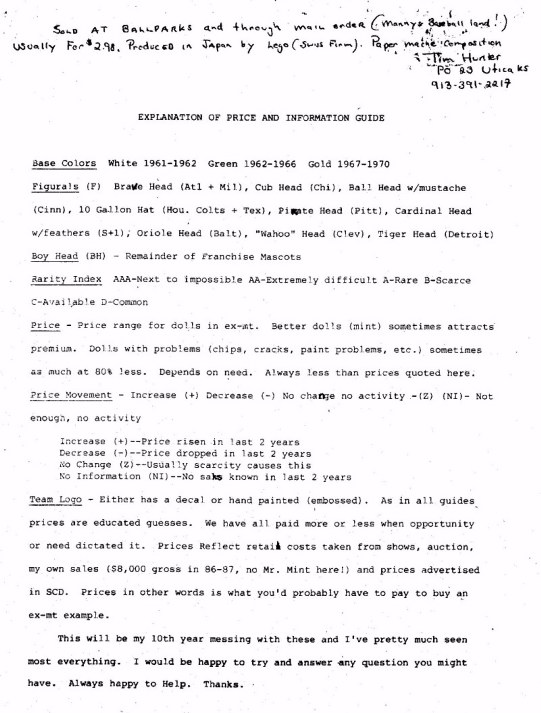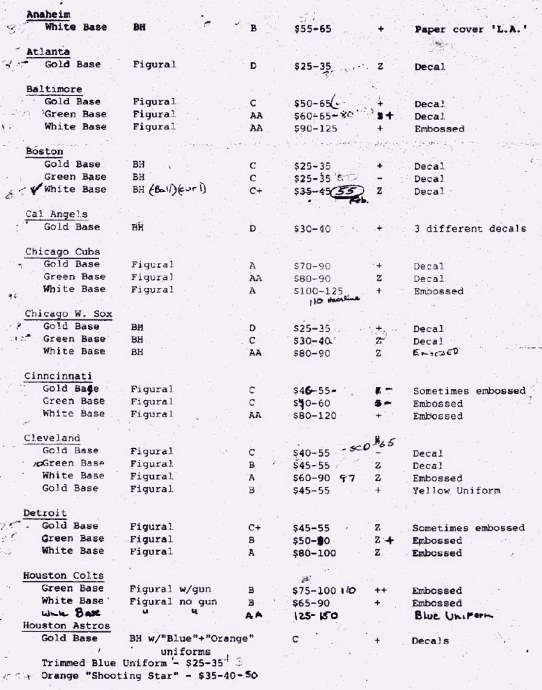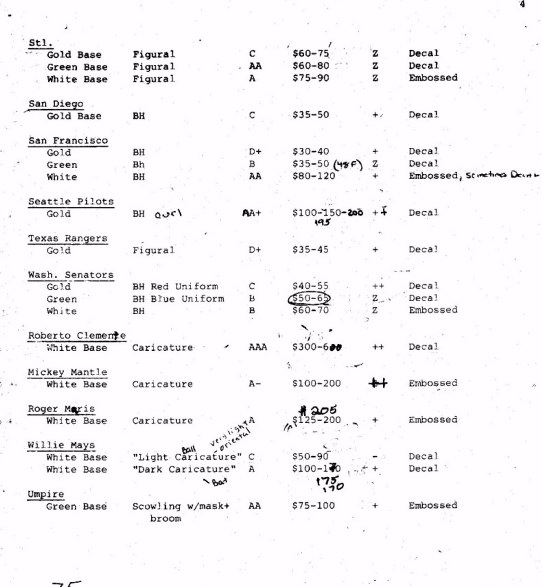 December - Year end report
A very busy year, lots of change but hopefully all positive. Here's my take:
All Doll Auctions
As most of you know, Tim Hunter has decided to step back from the hobby and pursue other interests after 20 + years of being the leading authority on 1960's Bobbing Heads. As you probably know, Tim "wrote the book" on our nodders and has spent thousands of hours researching and categorizing the Bobbing Heads that we collect. Like many collectors, I started collecting 20+ years ago, before the computer made it easier and Tim was the person to contact if you were looking for a Bobbing Head.
Tim has spent the better part of that time battling "repair artists", ie those dealers that buy crap, have them repaired, and sell them as new. I have a general idea of what Tim has put up with, as I have been attacked as being a negative influence on the hobby (mainly by dealers who stand to lose some money). Anybody who visits my site regularly will know that I love the hobby and want it to grow and prosper. It's fun , bobbers are the neatest collectible out there, and collectors are great people. If I have to resort to ripping off Bobbing Head collectors to make a few extra bucks, God help me.
That being said, I was pleased and flattered that Tim asked me to take over his auction. I know many of you dealt exclusively with him and I look forward to gaining your trust. While Tim has stepped back he is still involved with grading and authenticating the dolls I put up for auction.
My first auction went quite well, I introduced on-line bidding which went off without a snag. Still had plenty of phone calls and met some nice collectors and I'll be continuing as is for the forseeable future. Prices were strong overall and the hobby is continuing to grow.
Website
The site continues to pick up new members and grow. I've been averaging close to 100 hits per day and I get alot of emails from new collectors all the time. I am firmly committed to offering dolls for sale and will continue to do so on a regular basis. New additions have been somewhat slow lately, but I've been spending alot of time getting the auction business up and running.
I sold over 350 dolls this past year(not including auctions) and expect the growth to continue as more and more people find the site. Consignments are always welcome as it is hard to keep my inventory up. email me for details.
john@nodderexchange.com
I'd like to include more informative info on the site, if you like to contribute let me know.
Hobby In General
Top grade baseball is hot. I can't keep a Gem like Baseball doll on the site and they go in auction for big bucks! Football is somewhat slower but still does OK. I get a ton of requests for Hockey but it's hard to find. (If you have any to sell, let me know)
Lots of contradictory messages (sounds like the stockmarket). Non sports dolls are not doing well, some long time people will tell you that's a trend to watch. However the influx of new collectors looking to build their collections has kept overall prices on the uptick.
White Base baseball is getting awfully tough to find, particularly in nice condition. I get very few in nice condition and they usually go very quickly. The Green Base set seems to be the most popular, many consider it the nicest looking baseball set . I never really appreciated the Gold Base Baseball set, however Gem examples (which are tough to find in that set) can be really sharp looking. Some of the 1960 Color Base set are downright impossible to find, particularly the Red Sox, Cubs, Reds, Indians and of course the Senators.
Let me know your thought on the hobby in general, I'd be glad to publish your insights on the site.


November 2002
Lots of things to cover, but first things first, How about those Jets! After a 1-4 start every win lets me enjoy the season one more week. Thanks for bearing with me on this....
Now on to Bobbing Head News... Before I lost contact you all saw that Tim's Colt 45 reached the 5 figure mark. It's a growing market (I know from all the new collectors I get messages from). I suspect more and more con artists will come out of the woodwork, so 'be careful out there". If you have questions, feel free to ask, if I don't know the answer I'll go to someone who does.
To answer some questions: While I am taking over Tim's auction business, I am strongly committed to offering dolls for sale as I've always done, that will not change.. I like the idea of being able to "buy" a doll outright without having to wait to see if you outbid everyone else. I think that we can do both without any problems. I just added 5 nice Baseball dolls and will have more within a few days.
As far as the upcoming Christmas Auction (12/12/02) we have a bunch of new (Positive I hope) changes. I've purchased auction software, so you can now bid "Live on Line" just like on ebay. I'll be publicizing it in the next week or so, but you can go to
to see how it works. You can register and set up your password now. As a matter of fact, I have a sample auction on now so you can get a feel for how it works. Please register and bid (I won't hold your bids) so you are all set for the auction. If you have a # from Tim's auction, use that if possible as your ID #.
Speaking of the auction, I'm working very hard to make my first one a good one, with any luck we'll have some of the following:
Clemente
Redskins Toes Up Black Player (almost unheard of)
A line of Green Base Baseball including some variations
Gold Base Football and more. Should be a little something for everyone.
Thanks for all of your support over the last (almost) 2 years. Lots of good things ahead.
John


October 2002
Hi all, some big news!! I'm pleased to announce that the Nodder Exchange and Tim Hunter have come to an agreement whereby the Nodder Exchange will be taking over the operations of the "All Doll Auction".
As many of you know, Tim has been the foremost authority in 1960's Bobbing Head dolls for the last 21 years. He has run the All Doll Auction for over 15 years, and it continues to be the biggest and most successful "Bobbing Head only" auction anywhere. Offered 6 times a year, the auction has become a staple for nodder collectors.
After 21 years, Tim has decided he would like to "step back" from the hobby and pursue other interests. I'm thrilled that he has offered me the opportunity to continue what he started. The best news is Tim has agreed to stay on as a grader and authenticater. As you all know, the success of Tim's auction comes from the fact that collectors can count on Tim's knowledge and honesty in spotting repairs and fakes. People who bid their hard earned money know they are getting what they pay for and this will not change.
Tim is planning one last auction on his own in November. We'll announce the date soon. I'll be filling you in on the details over the next week or so. In the meantime, its business as usual. We'll continue to sell dolls on the site and hopefully the auctions will be bigger and better than ever. I have many positive changes planned for the site, so stay tuned. Thanks.
John Brey


July 2002
Hi all, here's an update of whats happening, as far as I can tell :
Web Site
Sold 42 Bobbing heads in June and close to that in July. As always, the hardest thing is keeping my stock replenished. If you have any individual nodders you want to sell, let me know. Collections are needed badly too.
The website is going great, I've averaged almost 700 hits per week the last month and many of them are new collectors who have recently joined the fold. I love answering questions for the new people so don't be shy. The only thing I'd ask is to read the "History" sections on the site. Alot of the questions I get are already discussed there.(When were they made?, whats the difference in base colors?, etc.) You also should purchase Tim Hunter's book, which you can do through the home page on the site. The prices are outdated by now but it still is a good research tool that can give you an idea of whats rare and what isn't.
Some interesting prices realized in recent auctions:
JFK & Jackie Kissing Dolls NrMt in Box $2575
Ringo Starr 14" Promo Ex $1581
Clemente White Base in rough condition $1183
Mantle Mini (rough) $838
Cubs Black Player (Rough) $810
Mets Green Base $680 ?????? (crazy)
KC A's Dark Blue Hat Green Base NrMt/Mt $500
Pilots Gold Base with Hat chip $456
Ohio State Toes Up Mt in Box $450
Set of 5 Hockey minis (ex to NrMt/Mt) $295
Whats Hot?
Almost all Gem Mint or Gem Nr Mt Baseball dolls fly off the shelf. I often get 2 or 3 offers the first day they're on. Doesn't seem to matter which Base, team, etc., Anything that's really nice goes quick.
Hockey always in demand but I just don't find them that often. Hockey collectors seem to be pretty hard core...
Football takes a bit longer to go but there seem to be more collectors there filling in sets than in baseball. If I was a collector now and looking for price accumulation ,I might look at some of the rarer Football issues in nice condition. They seem to be undervalued based on rarity compared to Baseball. Just a thought...
More soon! Thanks, stay in touch.
John


June 2002
I'll have to say, after almost a year and a half in business, Bobbing Head Collectors are the most honest, dependable collectors that you can find. In 16 months here are my unofficial returns:
Bobbing Heads Sold - 445 (Give or take)
Returned Nodders 6
Bounced checks - 0
Renegers 0
Angry Emails or calls 0
Looking at the above numbers, I am amazed! When I started this site, Tim Hunter (who's been dealing with collectors for over 20 years) told me that Bobbing Head collectors were as honest and upfront as you can find. I was a bit hesitant, but now I know what he meant. I don't hesitate to mark something sold as soon as someone says they want it because I know they will come through. By the same token, I don't have to wait weeks for a check to clear to send out a package, 100% of the time the check has been good!
It's because collectors are such honest and good people that I harp so much on things like repaired nodders. Its so hard to spot repairs (I"ve been screwed myself), the least a dealer can do is to try to protect collectors by checking for repairs and then highlighting them. To me, there's nothing sleazier then a "dealer" who sells a nodder that's obviously repaired and then pretends he had no idea ( happened to me often). I've seen many on EBay recently that are obviously repaired or repainted but I can't really do anything about it other then dissuade those customers who ask me about it. (which is welcome any time) . I have started a Hall of Fame Dealer list which I will be adding to soon. Check it out, its your hard earned money.....
Other notes:
Has anybody else noticed that the Colored Base Set is very hard to find? The Twins, Yankees,Pirates, O's and Angels show up once in awhile but what about the rest??
Looks like prices for "nice stuff" is at an all tie high. They go fast and its hard to replenish.
Seeing lots of new collectors, a great sign for the hobby!!


May 2002
WEB SITE
Lot's has happened since my last update, sorry for the delay. Hope to have more regular, timely updates as we go on. The site has progressed better than I hoped, it took 11 months to get our 1st 10,000 visitors, we hit 20,000 about 5 months later and we're averaging over 500 hits per week!
I've always thought there was a place for a site that sells nodders at reasonable and fair prices, Most dealers go the auction route, I guess there is higher upside potential, but I realize there are a bunch of us out there that would rather "buy" something rather than "bid" on it. I know I might be "giving away" $ sometimes, but I'd rather sell something to someone who wants it rather than sit and wait for the highest bidder.
TUFF STUFF
Has anybody seen the "Bobblehead" edition of tough stuff?? They included a full "price guide" for all nodders, including the 1960's. I'm not sure about the newer stuff, but their prices on the old stuff borders on comical!! I'm not sure who they consulted on this (certainly not me, and certainly not anyone who I have bought from). First of all, prices are listed in "mint condition", which we all know is crazy, how many "mint" nodders are there out there? Anybody have a "black yankee green base" in mint condition that they are looking to sell for $1,000? I'll take 3 or 4 if you have them. (last one I inquired about in excellent conditon was ex at $2,500) Also, I'll take as many $100 mint Oriole and Brave gold bases as you can find. Interesting that they have no problem locating me for advertising, yet they never ask me for pricing info!
Forgetting the price guide, state of the hobby seems great. Repairs are always an issue, learn as much as you can. I've bought many on Ebay in the past, probably 20% were repaired. i check them as close as possible, many dealers don't. I either return them or mark as repaired, Feel free to contact me regarding a seller, I'll tell you what I know. Bottom line is, before you spend your hard earned money, know what you are spending it on.
More soon!

2001 Year End Report
I started this site on 2/1/01, with a two/fold purpose, to give collectors a place to buy dolls as an alternative to the Ebay type auctions, as well as a place that collectors could go to find out more about their 1960's Bobbing Heads. The response has been better than I anticipated and I thank you and look forward to next year.
I'd like to thank the many customers who have bought dolls, and I'm pleased by the fact that of the several hundred dolls I've sold, I have had only 3 returns and one insurance claim. I try to be as "up front" as possible, with many pix and a full description, and it appears to be working well. There's nothing more maddening then bidding on an Ebay Nodder with one picture and a description of "damage to the back"which isn't shown. Here you know what you are getting and if you're not satisfied you'll get your money back.
That being said, here's a year end recap of the Bobbing Head World as I see it:
PRICES
Prices for "High End" items are out of sight. It's mind-boggling what the " Gem Mint"," Gem NrMt", and" Mint" items are going for, particularly those that are hard to find to begin with. That's why I've been so adament about repairs, I hate to see someone making living ripping people off. If you're not sure, buy from people you trust.
Prices for "Nr Mt" nodders remain stong. As you can tell if you deal on EBay, one person's NrMt is another person's excellent is another person's VG. Look closely and ask questions if your not sure.
Excellent and VG Nodder prices remain about the same. There are alot of new collectors coming in, who usually start small to build their collection. Cheap is good.
More Next week

November 9, 2001
Interesting week to say the least. (at least for me). As you know I'm trying to take a stance against repaired and repainted dolls. I know from experience there is nothing worse then spending your hard earned money on a "mint doll" only to find out months or years later that it is repaired and maybe worth a fraction of the price that you paid for it. Its especially important to me since a big portion of my customers are newer collectors who are looking for advice. Newer collectors, as well as many casual long time collectors find it hard, if not impossible, to tell if something has been repaired or touched up. My # 1 goal is to protect them.
I recently started a "Hall of Fame/Shame so I could share with my customers who I trust and who I don't on EBAY. I purposely did not make this a public issue, instead I invited my customers to contact me for my list. What was meant to be a private email between me and my customer was made public (sort of ) by someone who decided to send my private email to those I had negative comments about. (Its about the same thing as someone repeating a private phone conversation to someone else.)
Why this person felt compelled to share this I don't know. To make matters worse, I have received a copy of my original email with additional comments and notes that I never included. In response I have been accused of being everything from Bin Laden to actually being Tim Hunter . (Tell me , which is worse, I've seen pix of Tim, Bin Laden is cuter) .
Bottom line is this, I started this site because I love Bobbing Heads and I have fun doing it... I've not had fun this week, but I'm not going to fade away either. I don't want to see anybody ripped off, and I find it amazing that there are so many repaired nodders out there but no one has ever knowingly sold one! Someone repaired them. Someone is selling them. Its up to you to figure out who.
Heres what I'm going to do.... I'm posting a "Hall of Fame" on the website. These are dealers that I have bought from and think are good and trustworrty. Hopefully the list will change and grow. If you are considering bidding or buying from someone not on the list, email me with a simple question, "would you bid on this," yes or no, and I'll respond

Auction Results
Tim's auction was another hit, following is a sampling:
(Prices include 14% buyers premium)
#1 49er's Promo $2195
#2 Black Angel $2132
#6 Black Dodger $1192
#13 Browns Toes Up $ 667
#16 Yanks Gold Base $290
#31 Cards Kissing $477
#35 White Sox Gold $243
#39 Texas U. $985
#46 Cardinals Green $300
Tim's auctions always do well because collectors can bid without having to worry whether they are bidding on a legitimate item or a repaired or repainted doll. If you are going to spend $100's you want to know what you get. When I have dolls I'm not sure about, I send them to Tim. I know he'll be honest about it , and even if I lose money, everyone gets what they pay for.
The Bobbing Head hobby is alive and well. If we can weed out the repair artists we'll be in great shape. From my experience, it seems 100% of the collectors are great people and 50% of the dealers are thieves. If we can can get the "thieves" out, we'll be in great shape.
A couple of ideas to help yourself:
When Bidding or buying, ask the seller the following:
"If I win, can I return it if I'm not satisfied?
"Has the nodder been repaired or repainted?"
"Are there any problems with the Nodder that aren't apparent in the photos?"
Most of your honest dealers will refund your $ if you're not satisfied.
They will also answer that they are not aware of any repairs(fair enough, as long as they give you your $ back if you discover it is repaired) and they will expound on any flaws you may not see.
Anybody who bids on ANY auction that states "ALL SALES FINAL" or "AS IS" deserves what they get. I know, I've been there and done that. There are still plenty of Bobbing Heads out there, proceed with caution and deal with someone you trust!
I'm developing a list of dealers, the Hall of Fame, and the Hall of Shame. Email me if you are interested or if you want to add to it.
Fall 2001 Report
Very pleased to be able to connect with Tim Hunter and offer pictures for his auctions. Alot of work involved but it's well worth it considering what is going on in the Hobby elsewhere. You can trust Tim to sell you legitimate dolls, not ones repaired or repainted and sold as mint. I know from first hand experience. I recently spent $400 on a mint doll that Tim let me know was repaired.(I probably know more than 95% percent of collectors out there, but I still got robbed). My $400 "investment" is probably worth about $200 (hopefully).
I've about had it with Ebay. I just received a long awaited shipment of 2 bobbers that I paid about $500 for on Ebay. They were obviously repaired and the seller pretended like he didn't know it.(the same guy I bought the above nodder from) Luckily he's giving me a refund, but this problem is becoming all too common. There are a ton of "repair artists" out there. In addition many people dealing on EBay provide small, one dimensional pix, don't answer inquiries, don't fullly describe the doll, and then don't stand by their product. I recently bought a nodder on a seller who pointed out several flaws. When I received the nodder it had those flaws plus several others that weren't mentioned. When I questioned the seller, he basically told me I got a good deal and if I wanted "mint" I should have bid on a mint nodder. I responded to him that I wasn't looking for mint, just for a fair, honest description. (Never heard back).
Since I can't risk being sued (can't afford a lawyer) I can't list the names of the offending parties. However, if you are considering bidding on EBay, ask me and about the seller and I'll tell you what I think. There are some good ones out there.
The Bottom Line
I'll make mistakes, but I stand by what I sell. If you're not happy for any reason, you get your money back! No questions asked. Next time you bid on Ebay, ask the seller that same question!

Summer 2001 Report
Website Update - We sold 27 nodders in July and are ahead of that pace for August. I continue to get many notes from new collectors, which is a good sign for our hobby. The number of "hits" on the site are increasing each week as more collectors stumble across it. I've started advertising in Sports Collectors Digest this week which should help tremendously.
During the last month we've added Gift certificates, which are proving quite popular. Its a great gift for a collector. Also, long time Hockey collector Joe Marasco developed a Hockey History website that we have added. If you haven't checked it out you should do so, I've already used it for reference a couple of times.
In the coming month our plan is to add a Baseball Price guide. It will be a compilation of Tim Hunter's guide, our own sales, and Ebay and other auction results. If you would like to make contributions to the price guide, please email me.
Our biggest challenge is finding new Bobbing Heads for the site. With the number of customers increasing its becoming harder to keep our inventory fresh. If you have any nodders that you would like to sell on the site, let me know.
Recent happenings - Tim Hunter's recent All Doll Auction was spectacular again. Many beautiful Football dolls that went for some record prices. I'll post the football results next week, this week its Baseball. Here are some of the prices realized :
Phillies Black Green Base Mint $1191
Senators Gold Base Mint $695
Yanks Gold Base Gem Mint $380
Red Sox Gold Base Mint $376
Twins Wedge BaseMint $197
Some interesting EBay Baseball Results :
Yankee Black Green Base Repaired $1614
Mantle Mint in Box $1151
Mantle ExMT $415
Colt 45 Blue Uniform NrMt $911
Mantle Mini in Box $2300
Phils Black Green Base NrMt/Mt $995
Reds Black Green Base ExMt $930
Mays Gold NrMt $605
Maris NrMt $405
Twins White Base NrMt/Mt $310
Cardinals White Base NrMt/ Mt $455
Baseball remains very popular, overall prices up. Mint examples command high prices, be very careful of repairs and repaints. I've noticed several dealers who have made a career of repairing dolls and selling them as mint operating on Ebay. Be careful out there. We'll do a section soon on what to look for as far as repairs are concerned. NEXT WEEK - FOOTBALL

May/June Report
Been awhile since my last report, sorry about that. Have alot to say, so
here goes:
Website Report - Going better than expected. Sold over 30 nodders during June
and having a hard time keeping up inventory. Keep checking back. I added an
"Other nodder" section which for now will include Hockey, Basketball and non-
sports. Eventually hope to add Hockey and Basketball on their own, as soon as I
can increase numbers.
Starting to get alot of repeat customers, (always a good sign). Hope to get more
as they realize we try to be fair and informative. Its always better to buy from
someone you've had success with in the past and hopefully we're gaining trust as
we go along. I'd really like to thank Tim Hunter for his support , He's done so much
for collectors as far as research and legwork, and most of the stuff that I know
comes from him. Look here for his auctions , I want to promote them more in the
future.
Here's some obsrvations on Prices:
Hockey - Appears to be very hot. "Minis", which reached rock bottom a few years
ago are going through the roof. The days of the $40 or $50 Mint Mini seem to be over,
more collectors and fewer available dolls. Hard to find the regular issue square base
, never mind the Gold Bases, High Skates or Minor Leaguers.
Basketball - Hard to tell what's going on, very few dolls were made and fewer sold.

April 2001 Report
Sorry for the delay in getting this out. April-May is a busy time for me. My son is a High School Senior and plays ball, so I'm leaving work early almost everyday to watch him play and by the time I get home I'm too tired to work on the site. (Its hell to get old). Had a big rebound in April, sold a bunch of Nodders and made alot of new contacts. Seems to be lots of new collectors who are anxious to learn more. As always, many thanks to Tim Hunter, the undisputed KING of bobbers for any info I'm able to share with you.
A few thoughts for the month:
I am starting an organized vendetta against incorrect and phony descriptions by sellers on EBay. This week I've emailed 3 sellers that are incorrectly touting their 1980's (or later) bobbers as "1962" Green Base nodders. You veteran collectors know the difference but many of the newer collectors do not !!! Please Do US ALL A Favor, if you see someone selling something on EBay and you know its not described correctly, Let them know about it!!! Lets weed out the phonies and hype artists and protect our new collectors. I've included several pix in the Green Base history section,but we need your help.
I've come to realize over the last three months that my prices are very fair. I've moved 14 of my nodders from my site to EBay over the last 3 months, and 11 have gone for more than I was asking on my site!! (Some substantially more). Collectors seem to have an adversity to "buying" rather than "bidding". I know this because 3 of the last 4 I sold on EBAY went to customers of mine who could have bought it off my site for less!! Look around, you'll find a deal.
I have several bobber to add in the next week, and I hope to add the "Wedge Base Series" to the baseball and start working on the Football History. Have loads of prices to add, too. Feedback would be appreciated, thanks, John.

March 2001 Report
We experienced some rocky times during our 2nd month in operation. As some of you know our site was "down" for over a week and my access to it lasted much longer. I decided it was necessary to redo the entire site which took some time. We are back up and running, not as good as I'd like but we are working on it. The original idea was to provide an educational and informative site for collectors and I I plan to continue that.
The good news is Bobbers have hit the Big Time! The Wall Street Journal had a front page story on "Bobbing Head Mania" and so did Sports Collectors Digest. While both stories concentrated on the new, "hot" bobbers that are given out at the stadiums, the articles eventually delved into the history of bobbing heads, and our "leader", Tim Hunter, was quoted extensively in both articles. As anyone that has collected anything in the past knows, once the "hype" is over those that are in it to make a quick buck will be gone shortly, those that are left will become the true collectors. I've received numerous emails from new collectors this month, asking questions, which is why I'm doing this in the first place. Stay tuned for more updates shortly.
February 2001 Report
We recently finished our first full month in business and I can tell you we are happily surprised. We "met" many nice collectors by email and have received 1,000's (OK ,...dozens) of positive feedbacks. The good news is we sold 26 Bobbers during February, the better news is we have not had a complaint so far. While I'm knocking on wood I'd like to share a few observations with you.
Bobbing Head collectors are some of the nicest people in the world, it must be the smiling faces on the Bobbers that does it.
A ton of people on Ebay who are selling bobbers are either dishonest or don't know any better(I tend to hope its the latter). I've emailed several "dealers" who were selling Taiwan made dolls as 60's bobbers at least 5 or 6 times to let them know that what they were selling was not what they were advertising. To their credit, a few acknowledged their mistake and canceled their auctions, a couple did not. I know they think I'm a pain in the ass but we're trying to bring new collectors in and the last thing we need is for an unsuspecting collector to spend $150 on a $15 Taiwan doll. (It happens more than you might think)
Along the Ebay line, be careful what you are bidding on. Just because someone, who you don't know, says that something is "a rare 1962 AFL doll" don't necessarily make it true. I'm trying to provide as much info as possible but its taking awhile. In the meantime, feel free to contact me if you are not sure about something you are considering bidding on. If I don't know the answer I'll try to get it from someone smarter than me.
Speaking of which, Tim Hunter held his quarterly "All Doll Auction" recently. We all owe Tim a thanks, because vitually everything that we know about our Bobbers has come from Tim's research and hard work over the years. (I believe he's about 80 years old, just kidding Tim). Among the highlights of his February auction:
Indians Black Player $2663
Senators Color Base $1821
Indians Color Base $822
Packers Black toes Up$1083
Browns Black Toes Up $1219
49'ers Black Toes Up $1108
To register for Tims April auction contact thunter885@aol.com
Another February auction was held by Inside the Park Collectibles (Yanksfan on ebay). Excellent stuff, here are some highlights:
Clemente $3114
Dodgers Black - $1300
Colt 45 Blue Uni $1452
KC A's Gold Uni $968
All prices included in our history and price guide section. To register for next auction go to www.geocities.com/sharlou28/
Thanks, keep that feedback coming in.